Amigu
Fuzzballs are the ultimate in easy and cute crochet, and a perfect way to use up any scraps of fun fur, eyelash or any other fuzzy yarn you may have on hand. These tiny amigurumi are crocheted in fuzzy yarn and come in two sizes: Fuzzball and Fuzzball Mini. Let your imagination run wild as you embellish these little cuties! Don't be afraid of the fuzzy yarn – I have Fuzzy Yarn Tips to help you out: • Not sure which yarns to use?
Fuzzballs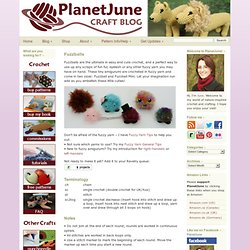 あみぐるみのキノコ の作り方: ちいさな毎日。
昔、ベビーカー用のおもちゃに、と作った 「あみぐるみのキノコ」 。 ご質問をいただいたので、参考までに作り方をご紹介します。 (といっても、とーっても分かりづらいかも…です。ゴメンナサイ・・・)
Blue Puppy Dog | Flickr : partage de photos !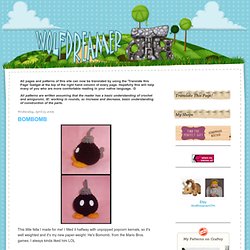 BOMBOMB
This little fella I made for me! I filled it halfway with unpopped popcorn kernals, so it's well weighted and it's my new paper-weight. He's Bomomb, from the Mario Bros. games. I always kinda liked him LOL
Amigurumi Crochet Patterns | Free Amigurumi Crochet Stuffed Animal Patterns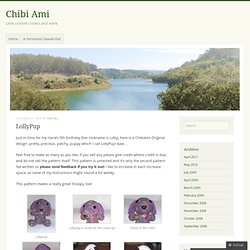 LollyPup « Chibi Ami
October 25, 2008 by Rachel Just in time for my niece's 5th birthday (her nickname is Lolly), here is a ChibiAmi Original design: pretty, precious, patchy, puppy which I call LollyPup! Aaw… Feel free to make as many as you like, if you sell any please give credit where credit is due, and do not sell the pattern itself. This pattern is untested and it's only the second pattern I've written so please send feedback if you try it out!
Free Crochet Patterns « Roses n Lilies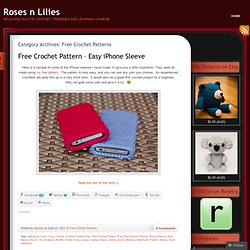 Free Crochet Pattern – Easy iPhone Sleeve Here is a sample of some of the iPhone sleeves I have made, to give you a little inspiration. They were all made using my free pattern . The pattern is very easy, and you can use any yarn you choose. An experienced crocheter will whip this up in a very short time. It would also be a great first crochet project for a beginner.
I've finally decided to write up my Hobbes pattern and instead of selling it I'd like to give it to you for free.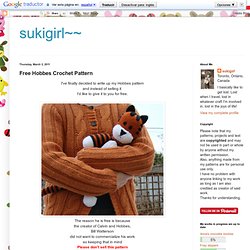 Baby Mushroom!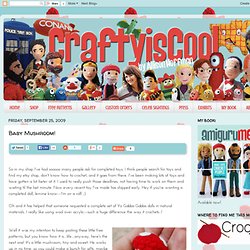 So in my shop I've had sooooo many people ask for completed toys. I think people search for toys and find my etsy shop, don't know how to crochet, and it goes from there. I've been making lots of toys and have gotten a lot faster at it. I used to really push those deadlines, not having time to work on them and waiting til the last minute.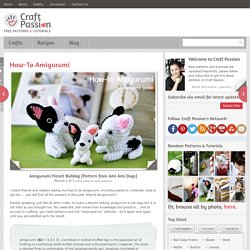 I heard friends and readers asking me how to do amigurumi, including patterns, materials, tools & tips etc…. you will find all the answers in this post: How-To Amigurumi!!! Frankly speaking, just like all other crafts, to make a decent looking amigurumi is not easy but it is not hard as you thought too. You need skill, skill comes from knowledge and practice…. and to success in crafting, you need patience and the "never-give-up" attitude – do it again and again until you are satisfied with the result.
Log In / Join the Lion Brand community to get free knitting and free crochet patterns and more!
I made this up as I went along, I thought I would share with other people. I wanted to make a lion, but none of the patterns available were cute enough for me this pattern can be made in 2 ways, instuctions are at the bottom for assembly. you can also adapt it to make a bear or other animals!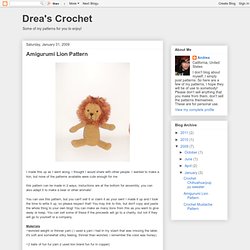 Amigurumi Lion Pattern
View Single Post - Ladybug Baby rattle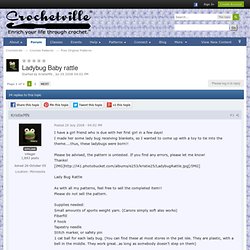 I have a girl friend who is due with her first girl in a few days! I made her some lady bug receiving blankets, so I wanted to come up with a toy to tie into the theme....thus, these ladybugs were born!! Please be advised, the pattern is untested. If you find any errors, please let me know!
I apologize. There was an error in this pattern and it has been corrected. The head should consist of 12 rounds, instead of only 9. Big thanks to gecko99 for finding my mistake.
Bear Pattern
Mochimochi Land « Blog
I'm thrilled to announce this year's springtime photo contest, this time sponsored by Spud & Chloë ! Springtime is for the birds: they're hatching, they're singing songs, they're building nests. But the birds in Mochimochi Land do way more. For this Fine Feathered Photo Contest, we want to see what surprising things YOUR mochimochi birds are doing. Choose one or more of these feathered mochis to knit: Tiny Chickens , Tiny Hatchlings , or Tiny Perching Pigeons . These itty-bity projects all knit up really quickly, so that allows lots time for them to get into all sorts of strange and funny situations: maybe your little birds are learning to fly an airplane, or are putting on a Broadway musical, or are relaxing in the most luxurious birdbath ever—let your imagination take flight!
Mochimochi Land « How-to: Mattress Stitch
For a lot of knitters, seaming finished pieces together is their least favorite part of of a project—it's time-consuming and can turn out so ugly. But for those who have joined the cult of mattress stitch, the technique of sewing pieces together on the right side for a virtually invisible seam, finishing is a relatively effortless and almost magical process. Mattress stitch is also a very handy skill for making great looking knitted toys. There are several good mattress stitch tutorials on the web, but since there are some specific issues with seaming toys that aren't found so much in garment knitting, I thought it might be helpful to do a toy-specific tutorial on the techniques. In this post, I'll cover the basic "flat" seaming: vertical, horizontal, and vertical-to-horizontal mattress stitch. Then I'll demonstrate how to use mattress stitch to sew on a 3-dimensional limb, such as an arm, and also how to sew on a limb at an angle.
Time for another tutorial! I made this lineup of baby monsters for my Basic Amigurumi class at The Knitting Nest . I think they're a pretty good beginner project because it teaches how to start crochet in the round, how to single crochet, how to increase, and basic construction and customization of amigurumi. Let's begin, shall we? Baby Monster's Guide to Basic Amigurumi You'll need the following stuff:
Once again, this blog post is somewhat of a departure from what I typically blog about (crochet, baking, travel), similar to when I blogged about " My Maternity Fashion " here . At first I was hesitant about whether I should blog about this, but I decided that other mamas and mamas-to-be might find it helpful, so I decided to go for it! I will highlight two Canadian companies that have made items that I've loved so far as a new mama :) I always knew I wanted to breastfeed Myla from the very beginning because of all the health benefits for both Myla and I (not to mention it also burns 500 calories a day!). I must say that I've really been enjoying it for the past 4 months and I've found our nursing sessions to be precious bonding time. After getting the hang of it in the comfort of our home, I was nervous about taking our little newborn out and having to feed her in public settings.
Happy Geisha
pattern shop / free patterns