Trends
It took a while. Even though tens of millions of users were flocking to social media sites every day, most marketers stayed away. They either didn't understand how to join the conversations—without sounding like shills—or they were frightened away by the prospect of associating their brands with questionable content.
Marketers Moving to Social Media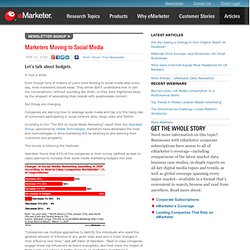 Avenue A Razorfish 2008 Digital Outlook
Growing numbers of consumers can no longer escape an awareness of the damage done by their consumption: to the planet, society, or themselves. But a mixture of indulgence, addiction and conditioning mean that most can't substantially change their consumption habits. The result?