Exam PE
Methods of Training GCSE Theory Lesson #pegeeks | @PEeducator
1 Elite sport - Funding elite sport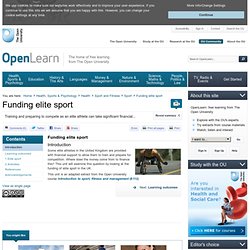 Some elite athletes in the United Kingdom are provided with financial support to allow them to train and prepare for competition. Where does the money come from to finance this? This unit will examine this question by looking at the funding of elite sport in the UK. This unit is an adapted extract from the Open University course Introduction to sport, fitness and management (E112) [ Tip: hold Ctrl and click a link to open it in a new tab. ( Hide tip ) ]
BBC - Lab UK - Experiments - BBC - Can You Compete Under Pressure?
BBC Sport - Olympics 2012: The importance of sport psychology
The Science Behind the Bike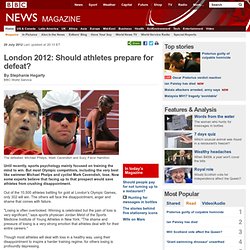 London 2012: Should athletes prepare for defeat?
29 July 2012 Last updated at 20:13 ET By Stephanie Hegarty BBC World Service The defeated: Michael Phelps, Mark Cavendish and Suzy Favor Hamilton Until recently, sports psychology mainly focused on training the mind to win. But most Olympic competitors, including the very best like swimmer Michael Phelps and cyclist Mark Cavendish, lose.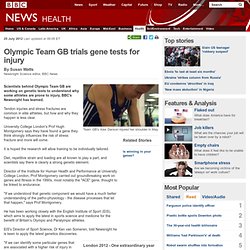 25 July 2012 Last updated at 00:05 ET By Susan Watts Newsnight Science editor, BBC News Team GB's Alex Danson injured her shoulder in May Scientists behind Olympic Team GB are working on genetic tests to understand why some athletes are prone to injury, BBC's Newsnight has learned. Tendon injuries and stress fractures are common in elite athletes, but how and why they happen is less clear.
Olympic Team GB trials gene tests for injury
Gatorade Cycling- Win From Within
by Anne Ryman - Jul. 21, 2012 11:09 PM The Republic | azcentral.com Olympic records have been falling steadily for more than a century, largely because of improvements in physical fitness and training. The London Games, however, are putting a new focus on another factor pushing Olympic achievement to new heights: better technology.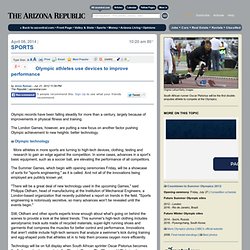 Olympic athletes use devices to improve performance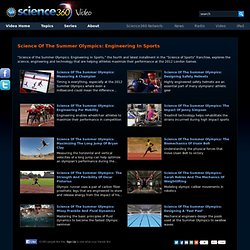 Science Of The Summer Olympics: Engineering In Sports
"Science of the Summer Olympics: Engineering In Sports," the fourth and latest installment in the "Science of Sports" franchise, explores the science, engineering and technology that are helping athletes maximize their performance at the 2012 London Games. Timing is everything, especially at the 2012 Summer Olympics where even a millisecond could mean the difference between victory and defeat. Highly engineered safety helmets are an essential part of many olympians' athletic gear Engineering enables wheelchair athletes to maximize their performance in competition Treadmill technology helps rehabilitate the strains incurrred during high impact sports Measuring the horizontal and vertical velocities of a long jump can help optimize an olympian's performance during the event
How is Bradley Wiggins different from the average man?
25 July 2012 Last updated at 21:13 ET By Keith Moore BBC News The final leg of Bradley Wiggins's Tour de France victory, through the streets of Paris, seemed a relatively gentle end to a gruelling 3,497km (2,172-mile) race. Being able to ride that distance in three weeks, including punishing mountain climbs at altitudes that would leave most people gasping for air, is beyond the reach of all but the most highly trained endurance athletes. The two main physiological differences between an elite endurance athlete like Wiggins and the average person are a bigger heart - which allows more oxygen-rich blood to be pumped to the muscles - and the muscles' capability to use that oxygen, said Loughborough University's Dr Keith Tolfrey.
Sam Murphy - Health & Fitness Expert & Author | News and Events: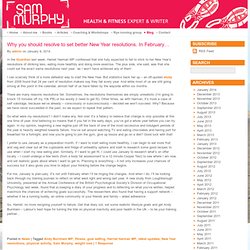 My first running holiday announced! By admin on March 27, 2013 I'm excited to announce my first running camp – Running Well with Sam Murphy – a week-long running holiday taking place in the stunning French Alps from June 8th to 14th 2013 organised by Adventures in the Alps. As well as providing the opportunity for some really focused training, you'll also get to relax and enjoy the beautiful scenery and food of the local area – and have some fun (it is a holiday, after all!) There will be a strong focus on running form during the week, and we'll be learning about – and putting into practice – many different types of training sessions (in spectacular surroundings) as well as showing you how to fit them into your schedule back home.
Olympics attacked for fast food and fizzy drink links | Life and style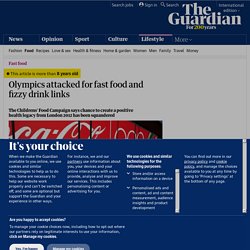 Coca-Cola advertising in Stratford, home to the London 2012 Olympic Games. Photograph: Mike Kemp/In Pictures/Corbis Health campaigners are urging the International Olympic Committee (IOC) to ban junk food and fizzy drink brands from future sporting sponsorship deals in a critical new report which says the committee has squandered the chance to create a positive health legacy from the London 2012 Games. The Obesity Games report, published by The Childrens' Food Campaign (CFC), found that corporate sponsorship accounts for less than 10% of the total funding for the London 2012 Games, while fast food sponsors contribute only about 2% of the IOC income.
VIDEO – Altitude training in the England gym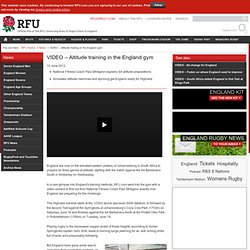 National Fitness Coach Paul Stridgeon explains SA altitude preparations Simulated altitude machines and spinning get England ready for Highveld England are now on the elevated eastern plateau of Johannesburg in South Africa to prepare for three games at altitude, starting with the match against the SA Barbarians South in Kimberley on Wednesday. In a rare glimpse into England's training methods, RFU.com went into the gym with a video camera to find out from National Fitness Coach Paul Stridgeon exactly how England are preparing for the challenge. The Highveld hat-trick starts at the 1230m above sea-level GWK Stadium, is followed by the second Test against the Springboks at Johannesburg's Coca Cola Park (1753m) on Saturday, June 16 and finishes against the SA Barbarians North at the Profert Olen Park in Potchefstroom (1350m) on Tuesday, June 19.
The Rift Valley in Kenya is a world-renowned destination for altitude training As elite athletes prepare for the 2012 London Olympics, many will be seeking to maximise their impact with training sessions at high altitudes. A popular destination is the Great Rift Valley in Kenya, where athletes arrive from around the world, swelling the local population in peak season. Altitude training has been used by endurance athletes for many years but there is growing evidence that the conventional wisdom should be challenged. Training at altitude - where the oxygen level is considerably lower - allows athletes to increase their red blood cell count.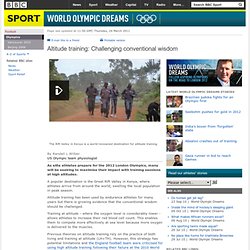 Altitude training: Challenging conventional wisdom
Olympics 2012: Video analysis software powers Team GB
26 July 2012 Last updated at 04:12 ET By Dougal Shaw Technology reporter Performance Analyst Stafford Murray explains the software powering Team GB "Someone kept kicking the power lead out of my camera", says Stafford Murray with a wry smile.
Paul McCartney performed two songs near the end of the opening ceremony. Al Tielemans/SI 2012 London Olympics
Opening ceremony a celebration -- of protest and dissent - Alex Wolff
Great Britain's track cycling gold medal hope Victoria Pendleton. Photo: Reuters Britain's track cycling team will unveil revolutionary battery-powered hot pants in London's Olympic velodrome following covert trials over 18 months designed to give the home nation a scientific advantage over their rivals.
Hot pants are British team's secret weapon in medal push
Official Olympic Games Report 1960 Rome
Faster, higher, stronger - with technology's help
Since the days of woollen shorts and cinder track, athletic performance has kept on improving. As time goes by, there have simply been more and more people on the planet - so there are more exceptional athletes to choose from nutrition, medicine and training facilities have improved steadily, too. But in most sports it is technology that is making the biggest difference to how far, how high, or how fast people can go. At Loughborough University , they are designing power into pairs of sprinters spikes. Using a process called 3D printing, the stiffness is built into the shoes.
Your Olympic athlete body match
30 July 2012 Last updated at 12:14 ET Olympic athletes come in all shapes and sizes, from the lithe limbs of Japan's Asuka Teramoto to the gargantuan frame of China's Zhaoxu Zhang. But how do you measure up in comparison? Try our app below and find out. Why not then share your results with your friends? Continue reading the main story
London 2012 Olympics: how technology is aiding Team GB
BBC Sport - Olympics badminton: Eight women disqualified from doubles
Elite performance via talent transfer | The Expert Advantage
Lewis and Jenson fuel up on Lucozade for the Malaysian Grand Prix / Vodafone McLaren Mercedes
Audiboo for GCSE & A Level PE | The Physical Education Teacher
Human Platform
Jigsaw%20article%20AC
UK Sport - Olympic film highlights technology support for British athletes