KINECT
Project ideas
Plug and Play Kinect Hacking Open-source operating system for ARM boards that makes the Kinect plug-and-play This OS has libfreenect pre-installed and includes common scripts (generate maps of rooms, track skeletons, etc), so it's really quick to get started In progress: [1] Workout RPG gamification Adapt any existing RPG game where one can gather experience points In order to gather them or for fights different workout exercises like push-ups have to be done Thus the player gathers in workouts as (s)he gathers in the game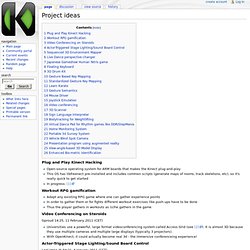 Kinect as capture scanner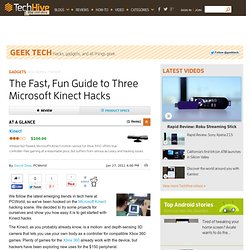 We follow the latest emerging trends in tech here at PCWorld, so we've been hooked on the Microsoft Kinect hacking scene. We decided to try some projects for ourselves and show you how easy it is to get started with Kinect hacks. The Kinect, as you probably already know, is a motion- and depth-sensing 3D camera that lets you use your own body as a controller for compatible Xbox 360 games. Plenty of games for the Xbox 360 already work with the device, but hackers have been exploring new uses for the $150 peripheral. For instance, the Kinect uses its two cameras to make a 3D depth map of whatever you point it at it, and hackers have managed to port that data over to the PC, where they can play around with it.
The Fast, Fun Guide to Three Microsoft Kinect Hacks
The Fast, Fun Guide to Three Microsoft Kinect Hacks
Hacking the Kinect - How to hack USB device drivers
With Kinect, Microsoft Aims for a Game Changer
With Kinect Controller, Hackers Take Liberties
Max Whittaker for The New York Times Innovators like Oliver Kreylos were eager for the Xbox Kinect, but not to play games. He uses it to capture live 3-D images. But he had no interest in playing video games with the Kinect, which is meant to be plugged into an Xbox and allows players to control the action onscreen by moving their bodies. Mr.