Stranieri
Your China Real Estate Solution | SouFun International. Real estate transaction means process.
Before you started your real estate business in China did you think about how to handle? Maybe you can join local real estate exhibiton or listing on some websites to generate the leads even you already closed the deals. But if you want to keep your business growing it would be really hard without system supported. Soufun as #1 China real estate platform knows your ambition. China has the largest buyer market allover the world. 1 in Commercial Real Estate Online.
Casa con 19 camera in Firenze, Tuscany, Italiain Firenze, Tuscany, Italia. International Real Estate, Real Estate Classifieds, Rental Properties,Luxury Real Estate, Vacation Properties. Property Investment Opportunities. Overseas Property | International Real Estate for Sale. Converting your listings into xml data feeds.
PropertyWorld.com
It.globalestate24.com. Basta compilare il modulo di registrazione!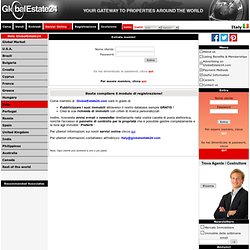 Come membro di GlobalEstate24.com sarà in grado di: Pubblicizzare i suoi immobili attraverso il nostro database sempre GRATIS ! Real Estate and Funding | Networking with Real Estate Professionals. Viviun the Leader in International Property Listings. Unique Global Estates - Luxury Real Estate. Italy - Friuli Venezia Giulia – Palazzo da Mula For Sale on PropGOLuxury. Property Description The Da Mula family who built the palazzo and owned it for almost 600 years, were one of the most important and respected noble families in Venice.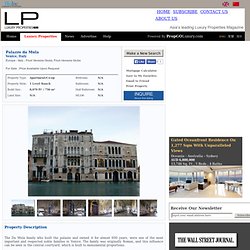 The family was originally Roman, and this influence can be seen in the central courtyard, which is built to monumental proportions. The 750 sqm property is accessed both from the street entrance and from a water gate on the Grand Canal, and offers both a Classical staircase and a lift. A large central salon with exquisite original frescoes concludes with a spectacular Gothic Quadrifora window and a wide balcony with stunning Lagoon views. Luxury Homes for Sale - Luxury Vacation Rentals. Selling process online brochure. Sell your property - Why use Foxtons to sell your home in London or Surrey? Magnet for buyers Foxtons is one of London's most recognisable brands attracting thousands of buyers every month.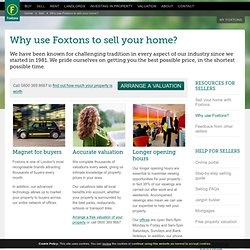 In addition, our advanced technology allows us to market your property to buyers across our entire network of offices. Accurate valuation We complete thousands of valuations every week, giving us intimate knowledge of property prices in your area. Our valuations take all local benefits into account, whether your property is surrounded by the best parks, restaurants, schools or transport links. Arrange a free valuation of your property or call 0800 369 8667.
---