Photography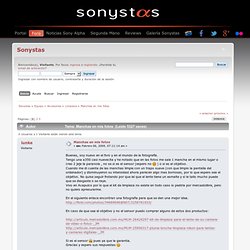 Hola Iunke: secundo totalmente la recomendación de Joan. Aunque sí hay ocasiones en las que se debe quitar el filtro, como son las tomas de fotografías nocturnas con exposiciones largas, en las que se pueden generar reflejos, o en cirucunstancias donde la luz esté justísima, pues siempre quitan un poquito de luz. En tu caso, croe que las manchas no están en el objetivo, sino en el sensor. Pero no te preocupes para nada. Es absolutamente normal que entren motas al sensor, y muy muy fgácil limpiarlas. Como defensor que soy de los objetivos de focal fija, debo decir que las motas de ppolvo al sensor, entran no solo al cambiar objetivos, sino que entran muy a menudo por el "efecto fuelle" de las ruedas de zoom de los objetivos de focal variable.
Manchas en mis fotos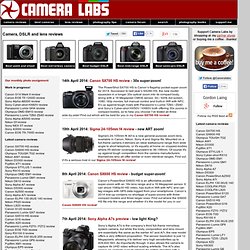 14th April 2014: Canon SX700 HS review - 30x super-zoom! The PowerShot SX700 HS is Canon's flagship pocket super-zoom for 2014. Successor to last year's SX280 HS, the new model squeezes in a longer 30x optical zoom into its compact body, along with a 16 Megapixel CMOS sensor, 3in / 920k dot screen, 1080 / 60p movies, full manual control and built-in Wifi with NFC.