Journalistik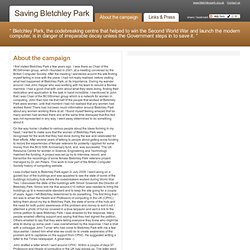 Saving Bletchley Park | About the campaign
I first visited Bletchley Park a few years ago. I was there as Chair of the BCSWomen group, which I founded in 2001, at a meeting convened by the British Computer Society.
Ulf Nilson var utrikeskorrespondent på Expressen 1963-1995.
Bloggarna kan aldrig ersätta en riktig världsreporter | Newsmill
Kaplan University Professor Spot
journalisti´k, benämning på såväl insamling, urval, bearbetning och presentation av material i massmedier som på resultatet av denna verksamhet: det redaktionella innehållet i medierna. Journalistik avser ytterst att skildra verkligheten; den skiljer sig från skönlitteratur genom att inte syssla med fiktion och från vetenskapligt arbete genom krav på aktualitet. Benämningen journalistik avsåg ursprungligen nyheter och reportage i tidningar och tidskrifter (jfr journal), men har senare breddats till att även omfatta radio och TV.
Journalistik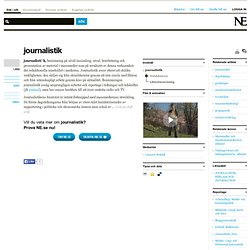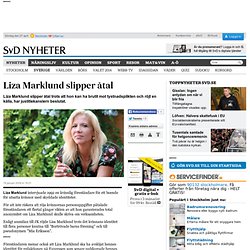 Liza Marklund intervjuade 1992 en kvinnlig föreståndare för ett boende för utsatta kvinnor med skyddade identiteter. För att inte riskera att röja kvinnornas personuppgifter påtalade föreståndaren ett flertal gånger vikten av att hon garanterades total anonymitet om Liza Marklund skulle skriva om verksamheten. Enligt anmälan till JK röjde Lisa Marklund trots det kvinnans identitet till flera personer knutna till "Bortrövade barns förening" och till pseudonymen "Mia Eriksson".
Liza Marklund slipper åtal
Blanda inte ihop min bok med Marklunds smörja | Newsmill
[...] författare, skriver "blanda inte ihop min bok med Marklunds smörja". Läs mer här.