Peperafa
Rafael
Love marketing, advertising, sports and history
Top 10 Competencies of a Gamified Learning Designer. Gamified learning is one of the major revolutions happening around us that demands a shift in the mere thinking of 'learning'.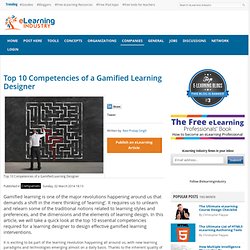 It requires us to unlearn and relearn some of the traditional notions related to learning styles and preferences, and the dimensions and the elements of learning design. In this article, we will take a quick look at the top 10 essential competencies required for a learning designer to design effective gamified learning interventions. It is exciting to be part of the learning revolution happening all around us, with new learning paradigms and technologies emerging almost on a daily basis. 33 Amazingly Useful Websites You Never Knew Existed. Loteria de green cards, Visas y Cadivi, Peter Roth.
Deportes. Herramientas. Variedades.
---