Brezhoneg
Wikipedia
* War gresk e talc'h ar Wikipedia brezhonek da vont, hag aet omp en tu-hont da 48 000 pennad. Digemm e chom hor renk e-touez ar yezhoù all hag er 70vet renk emaomp atav e-touez ar raktresoù Wikipedia [1], evit an niver a bennadoù, etre ar bosnieg hag ar javaeg. Evit gouzout hiroc'h : An Deizlevr. * E renkadur an holloueziadurioù hervez danvez ar pennadoù emaomp atav en 74vet plas [2], etre ar winarayeg hag an astureg. Ne labouromp ket a-walc'h war ar pennadoù a zo bet boulc'het, hag un toullad pennadoù diazez a vank c'hoazh d'hor Wiki-ni [3], evel aljebr pe gouarnamant ha meur a hini all c'hoazh. Taolit ur sell ouzh roll ar pennadoù a ra diouer d'ar Wiki-mañ.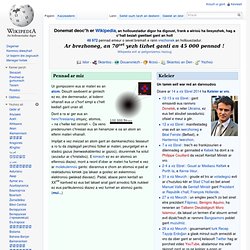 The next meet July 9 Nireblog five years and believe it is a good time to close the service have been five years which have created more than 100,000 blogs in over 60 languages ​​and have served hundreds of millions of pages, for the last 2 years and could not create Blogs and the system had ceased to be updated. This closure does not mean that blogs are going to disappear, we have developed a system to export your Wordpress.com blogs or your own installation of WordPress, this migration preserve all your Posts, Comments, Graphics, ... also all the visitors to your blog in Nireblog be redirected to the new address so your visitors will not notice the difference, however you will have your Blog on Blogs management system more advanced now. We have prepared a simple tutorial to make the migration in less than 5 minutes.
Blog Fulup
Les Bonnets rouges sont les Indignés du Bout du Monde – Carhaix - 30-11-2013 [Bretagne/Breizh] D'une fraternité dans l'abattage d'un portique écotaxe en août 2013 [Voir ABP 31078] est née une alliance intercatégorielle entre les agriculteurs, leurs transporteurs et les ouvriers d'usines agroalimentaires menacées. Depuis, Le «Collectif Vivre, décider et travailler en Bretagne» s'est mué en une organisation politique, nouvelle à plusieurs égards.
brezhoweb
Gwagenn TV
Radio Kreiz Breizh
Radio Kerne - Radio Kerne war eeun - Radio Kerne en direct sur I