Pasta
Steak Fettuccine with Roasted Red Pepper Alfredo Sauce. For the steak: In a small bowl, combine Worcestershire, garlic powder, onion powder, salt and pepper and stir until blended.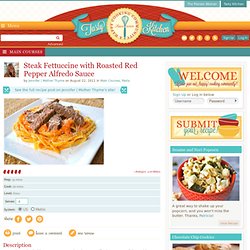 Pour over both sides of the steaks and let marinate for at least 30 minutes. Cook steaks using desired cooking method until done. Thinly slice on an angle. For the pasta: Preheat oven to 425ºF. On a baking sheet, toss red pepper wedges with a light drizzle of olive oil and a pinch of salt and pepper and spread in a single layer. Toasted Ravioli. Bacon and Cheddar Macaroni & Cheese. 1 Bring a medium (6- to 8-quart) pot of water to a boil.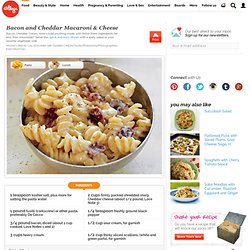 Salt it generously (it should taste like the sea). Stir in the pasta and cook according to the package directions. Drain (but don't rinse, or you'll rinse away starches that will help thicken the sauce) and return to the empty pot. 2 Meanwhile, place a large (12- to 14-inch) sauté pan over high heat for several minutes. Cruft: Lasagna Cupcakes. When Intelligentsia Coffee opened in Pasadena recently, I was intrigued the lasagna cupcakes they served.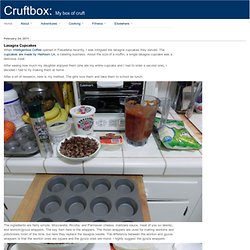 The cupcakes are made by Heirloom LA, a catering business. About the size of a muffin, a single lasagna cupcake was a delicious meal. After seeing how much my daughter enjoyed them (she ate my entire cupcake and I had to order a second one), I decided I had to try making them at home. After a bit of research, here is my method. Jersey Girl Cooks: Mini Lasagna Cups or 12 Minute Lasagna! Lasagna has to be one of my family's favorite meals.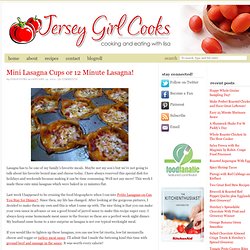 Maybe not my son's but we're not going to talk about his favorite boxed mac and cheese today. I have always reserved this special dish for holidays and weekends because making it can be time consuming. LaSaGnA TiMpAnO. I went to see tUnE-yArDs on Monday night with some friends, and as always we wanted to cook a meal that somehow related to the show we were heading to.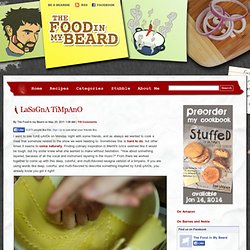 Sometimes this is hard to do, but other times it seems to come naturally. Finding culinary inspiration in Merrill's lyrics seemed like it would be tough, but my sister knew what she wanted to make without hesitation. "How about something layered, because of all the vocal and instrument layering in the music? "
---