Other
Basic Pizza Crust. Sprinkle yeast over 1 1/2 cups warm (not lukewarm) water.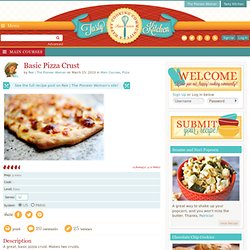 Let stand for a few minutes. In a mixer, combine flour and salt. With the mixer running on low speed (with paddle attachment), drizzle in olive oil until combined with flour. Buffalo Chicken Grilled Cheese Sandwich. After the success of turning jalapeño poppers into grilled cheese sandwiches (aka the jalapeño popper grilled cheese sandwich) I was wondering what other dishes I could turn into grilled cheese sandwiches.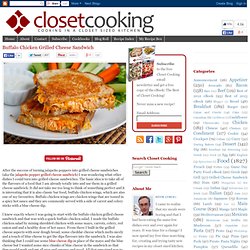 The basic idea is to take all of the flavours of a food that I am already totally into and use them in a grilled cheese sandwich. It did not take me too long to think of something perfect and it is interesting that it is also classic bar food, buffalo chicken wings, which are also one of my favourites. Buffalo chicken wings are chicken wings that are tossed in a spicy hot sauce and they are commonly served with a side of carrot and celery sticks with a blue cheese dip.
I knew exactly where I was going to start with the buffalo chicken grilled cheese sandwich and that was with a quick buffalo chicken salad. Making Miniature Stuffed Pizzas in Springforms. Stuffed pizzas are a Chicagoan delicacy consisting of layers of cheese and fillings above– and below– a thin pizza crust.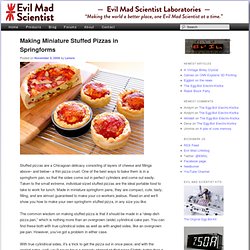 One of the best ways to bake them is in a springform pan, so that the sides come out in perfect cylinders and come out easily. Taken to the small extreme, individual-sized stuffed pizzas are the ideal portable food to take to work for lunch. Made in miniature springform pans, they are compact, cute, tasty, filling, and are almost guaranteed to make your co-workers jealous.
Read on and we'll show you how to make your own springform stuffed pizza, in any size you like. The common wisdom on making stuffed pizza is that it should be made in a "deep dish pizza pan," which is nothing more than an overgrown (wide) cylindrical cake pan. Corn Potato Chowder | Handle the Heat. Pizza Braid. Pear Gorgonzola Walnut Pizza. When I was in college, we had a typical nice Italian restaurant in town, called Trattoria.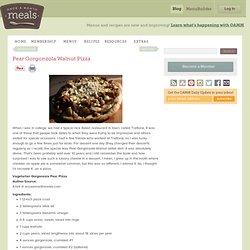 It was one of those that people took dates to when they were trying to be impressive and others visited for special occasions. I had a few friends who worked at Trattoria, so I was lucky enough to go a few times just for kicks. For dessert one day (they changed their desserts regularly as I recall), the special was Pear-Gorgonzola-Walnut skillet dish.
It was absolutely divine. Quick and Easy Gyros. If there is such a thing as an easy gyro, it must mean that some shortcuts have been made.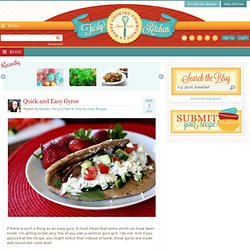 I'm willing to bet very few of you own a vertical gyro grill. I do not. And if you glanced at the recipe, you might notice that instead of lamb, these gyros are made with sliced deli roast beef. If you're a gyro purist, you may want to divert your eyes. Loaded Baked Potato Soup. Potatoes have been one of my favorites since I can remember.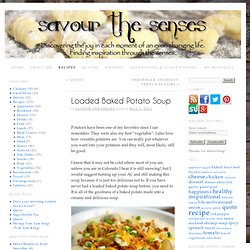 They were also my first "vegetable". I also love how versatile potatoes are. You can really put whatever you want into your potatoes and they will, most likely, still be good. I know that it may not be cold where most of you are, unless you are in Colorado I hear it is still snowing!
---