Home
www.rightathome.com/Cleaning/Articles/Documents/bath.pdf
There are two basic methods to test for how done your meat is while you are cooking it – use a meat thermometer, or press on the meat with your finger tips. The problem with the meat thermometer approach is that when you poke a hole into the meat with a thermometer, it can let juices escape, juices that you would rather have stay in the meat. For this reason, most experienced cooks rely on a "finger test" method, especially on steaks (whole roasts are better tested with a thermometer).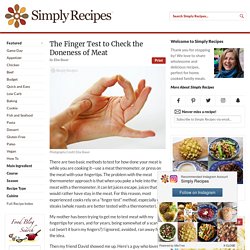 Creative Homemaking...Dedicated to all of Your Homemaking Needs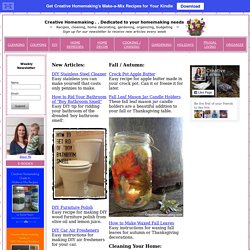 New this Week: Make Your Own Laundry Detergent Making your own laundry detergent is a great way to save money on doing laundry. Decorate Your Home for Spring: 10 Ways to Freshen Your Home for Spring Creative, colorful ideas for getting your home decorated for spring.
Microsoft Checklist Index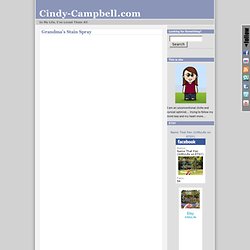 Grandma's stain spray is so simple to make. And saved my favorite shirt. Okay. One of my favorite shirts.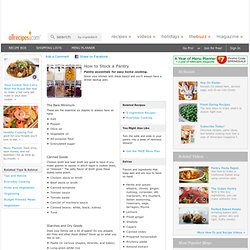 Pantry essentials for easy home cooking. Stock your kitchen with these basics and you'll always have a dinner backup plan. The Bare Minimum These are the essential six staples to always have on hand.
in the spotlight Bee Themed First Birthday Honeycombs and bumble bees make this first birthday celebration un-bee-lievably cute! from our shop Record Baby Shower Collection A "Record Baby" Baby Shower with fun & funky patterns & clever lyrical signs. Perfect for a music loving mommy-to-be! meet our members GreyGrey Designs Brittany and her team specialize in unique custom parties tailored to each client's needs. Check out some of their incredibly creative work here!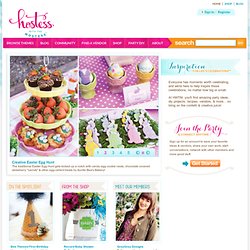 Homemade Febreze-Go Green by staying Cheap!
I've seen this on the internet a few times, so I thought that I would bring it to the eyes of you fantastic readers at instructables. Febreze- We all use it (I hope some of us do) to clean what we have dirtied, make that which is foul smell better, and generally add a hint of fragrance to our garments. In this short but sweet instructable, I'll show you how to make your own Homemade Febreze with things you should already have in your home. This is not my original idea. I see it on the internet a lot, but since it was not on instructables, I thought I'd share it with you here.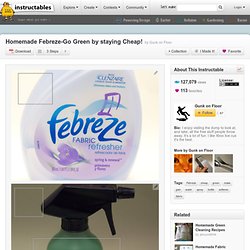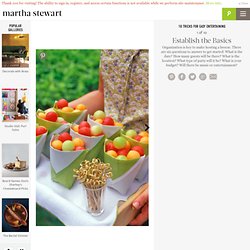 10 Tricks for Easy Entertaining - Martha Stewart Entertaining 101
Why you are throwing the party -- a holiday, for fun --will help set the date and size. Add to that your location, budget, and equipment to determine the type. Cocktail parties are the least expensive and most versatile. For a sit-down meal, you must have (or rent) dishes, flatware, glassware, linens, seating, and serving pieces. A buffet is almost as versatile as a cocktail party, and the size and price can be tailored to your budget.
By: Vered DeLeeuw A well-stocked pantry can save you from what happened to me yesterday. It was 6pm, we had just arrived from the kids' gymnastics class, and I had absolutely no idea what to make for dinner. Eventually I decided to make a quick pasta dish – spaghetti with olive oil and oregano. But alas, there was no pasta in the house and only a tiny bit of olive oil left.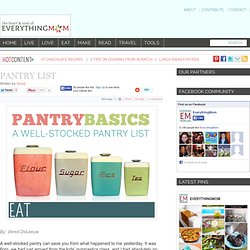 Pantry List | organizing
EverythingMom: Pregnancy Week by Week | Ovulation Calendar | Meal Plans | Moms Forum | Mom Blog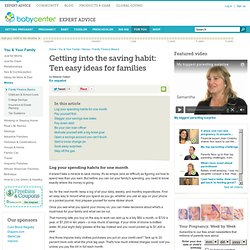 by Melanie Haiken En español Log your spending habits for one month It doesn't take a miracle to save money. It's as simple (and as difficult) as figuring out how to spend less than you earn. But before you can cut your family's spending, you need to know exactly where the money is going. So, for the next month, keep a log of all your daily, weekly, and monthly expenditures.
Getting into the saving habit: Ten easy ideas for families
Housewarming Bucket - Martha Stewart Entertaining
Cleaning - Best Home Organization Tips at WomansDay.com
The launch of my new book, Say Goodbye to Survival Mode is just a week away! Can you believe it?! I am so excited to share this message with you and cannot wait until each of you have a chance to get this book in your hands. I think you're going to LOVE it! In order to celebrate, we've put together a huge packet of free printables. The Say Goodbye to Survival Mode Printable Packet is an updated collection of some of the best of my home management printables.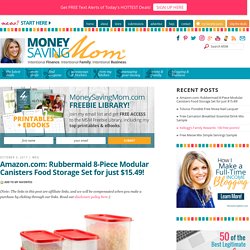 Household Planner Revealed (& a Few Free Downloads)