Music You'll like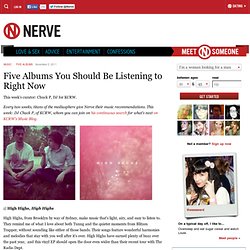 This week's curator: Chuck P, DJ for KCRW. Every two weeks, titans of the mediasphere give Nerve their music recommendations. This week: DJ Chuck P, of KCRW, whom you can join on his continuous search for what's next on KCRW's Music Blog. 1) High Highs, High Highs High Highs, from Brooklyn by way of Sydney, make music that's light, airy, and easy to listen to. They remind me of what I love about both Tunng and the quieter moments from Blitzen Trapper, without sounding like either of those bands.
Five Albums You Should Be Listening to Right Now | Nerve.com
Imagine-a-jump-john-lennon-vs.-van-halen by jackstanleywp on SoundCloud -...
Songs that make you feel better | tylr | 8tracks