Free Press, Net Neutrality, Policy, FCC, Legal
World News Mapped by Buzztracker - 2012-03-09. WP4_Report.pdf (application/pdf Object) Voxalead - Al Jazeera. Wikileaks. Netneutrality. IAC's Diller to senators: Prohibit discrimination against online video distributors. According to top executives from Amazon.com (Nasdaq:AMZN), online content company IAC/InterActiveCorp (Nasdaq:IACI) and Microsoft Corp.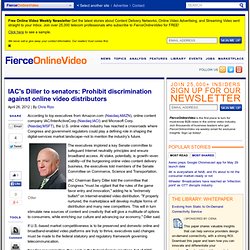 (Nasdaq:MSFT), the U.S. online video industry has reached a crossroads where Congress and government regulators could play a defining role in shaping the digital-services market landscape--not to mention the industry's future. The executives implored a key Senate committee to safeguard Internet neutrality principles and ensure broadband access.
---