Mobile Video & Apps
How $96,000 can buy you a top 10 ranking in the U.S. app store. Can you buy your way to the top of the app store?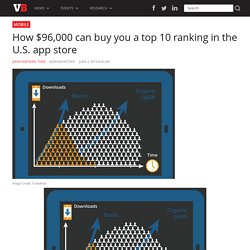 In a word, yes. Apple may have killed AppGratis for being too good at driving installs, but the "boost effect" of big marketing campaigns, in-app promotions in popular apps, and other somewhat less savory means of driving big download numbers is still very much alive and kicking. Building a Mobile App Is Not a Mobile Strategy. By Jason Gurwin | 3:35 PM November 21, 2011 Everyone wants their own mobile application.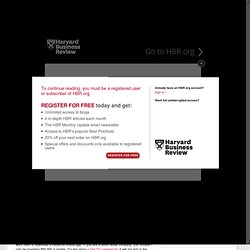 In the last year, I have heard this consistently. Vungle Hustles Its Way Into $2M All-Star Seed Round For Mobile App Video Trailers Network. Vungle, a new company that wants to help mobile developers market their apps through video "trailers," has just raised an enormous $2 million seed round from the who's who of Silicon Valley.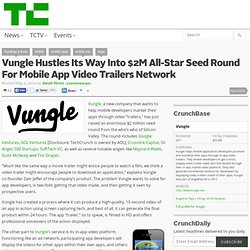 The round includes Google Ventures, AOL Ventures [Disclosure: TechCrunch is owned by AOL], Crosslink Capital, SV Angel, 500 Startups, SoftTech VC, as well as several notable angels like Maynard Webb, Scott McNealy and Tim Draper. "Much like the same way a movie trailer might entice people to watch a film, we think a video trailer might encourage people to download an application," explains Vungle co-founder Zain Jaffer of the company's product. The problem Vungle wants to solve for app developers, is two-fold: getting that video made, and then getting it seen by prospective users.
Automotive Products and Solutions - Nuance Automotive Speech Technology for Automotive and Navigation Systems. 3-Channel Smartphone and Tablet TV Platform Launches. TOKYO – A three-channel smartphone and tablet-dedicated HD TV platform NOTTV, launched on April 1, using some of the bandwidth freed by the digital switchover of terrestrial television broadcasts.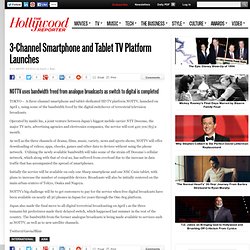 Operated by mmbi Inc, a joint venture between Japan's biggest mobile carrier NTT Docomo, the major TV nets, advertising agencies and electronics companies, the service will cost 420 yen ($5) a month. As well as the three channels of drama, films, music, variety, news and sports shows, NOTTV will offer downloading of videos, apps, ebooks, games and other data to devices without using the phone network. Utilizing the newly available bandwidth will take some of the strain off Docomo's cellular network, which along with that of rival au, has suffered from overload due to the increase in data traffic that has accompanied the spread of smartphones.
Initially the service will be available on only one Sharp smartphone and one NEC Casio tablet, with plans to increase the number of compatible devices. Nokia City Scene (Nokia Beta Labs) - PkCrunchSocial Media News and viral video.
---