Peggyguru
List of cognitive biases. Cognitive biases are tendencies to think in certain ways.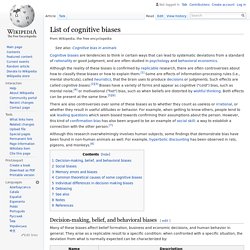 Cognitive biases can lead to systematic deviations from a standard of rationality or good judgment, and are often studied in psychology and behavioral economics. There are also controversies as to whether some of these biases count as truly irrational or whether they result in useful attitudes or behavior. Body Language. People Reading. Favourite Authors. Pictures. Read & Write. Books/Literature. Funny things to Read.
Audio Books. Psychology. Psychology. Psycology. Human interaction. Persuasion. Thinking. 5 Logical Fallacies That Make You Wrong More Than You Think.
The Internet has introduced a golden age of ill-informed arguments.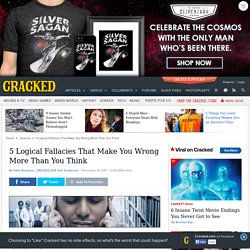 You can't post a video of an adorable kitten without a raging debate about pet issues spawning in the comment section. These days, everyone is a pundit. But with all those different perspectives on important issues flying around, you'd think we'd be getting smarter and more informed. Unfortunately, the very wiring of our brains ensures that all these lively debates only make us dumber and more narrow-minded. Sway: The Irresistible Pull of Irrational Behavior. You know there's a new nonfiction genre by the titles alone — Blink, Nudge, Predictably Irrational… and now Sway.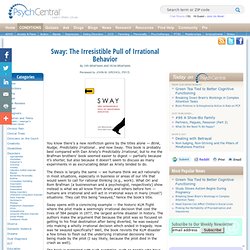 This book is probably best compared with Dan Ariely's Predictably Irrational, but to me the Brafman brothers' book seemed easier to digest — partially because it's shorter, but also because it doesn't seem to discuss as many experiments in as excruciating detail as Ariely tended to do. The thesis is largely the same — we humans think we act rationally in most situations, especially in business or areas of our life that would seem to call for rational thinking (e.g., work).
Fitness. Youtube. Ted Videos. Seattle. Seattle Music. Art. Restaurants. Music.
Playlists. Music Theory. Funny shit. Funny Videos.
---