Les intelligences multiples
Les intelligences multiples. « Aider l'élève handicapé ou en difficulté d'adaptation ou d'apprentissage à réussir sur les plans de l'instruction, de la socialisation et de la qualification.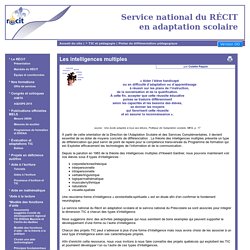 À cette fin, accepter que cette réussite éducative puisse se traduire différemment selon les capacités et les besoins des élèves, se donner les moyens qui favorisent cette réussite et en assurer la reconnaissance ». source : Une école adaptée à tous ses élèves, Politique de l'adaptation scolaire, MEQ, p. 17. Zoom sur... - Zoom sur... les intelligences multiples. La théorie des Intelligences multiples d'Howard Gardner La notion d' « Intelligences multiples » a été proposée par un professeur de l'Université de Harvard, Howard Gardner, en 1983 dans son livre Frames of Minds : the Theory of Multiple Intelligence.
Il suggère que chaque individu dispose de plusieurs types d'intelligences, pour lesquelles il a naturellement une plus ou moins grande compétence. Sa théorie a été reprise par de nombreux chercheurs et on distingue aujourd'hui huit principales formes d'intelligences : Howard Gardner. Bienvenue dans l'Univers du Mieux Apprendre....
---