Startup notes
"Ecco i 10 errori più frequenti di chi fa startup" Matteo Bogana (Polihub)Gli startupper spesso commettono errori, che possono pregiudicare anche il successo anche di un'idea che altrimenti avrebbe funzionato.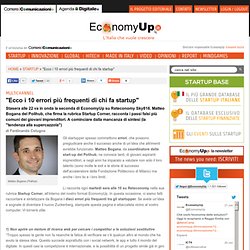 Matteo Bogana, da coordinatore delle start-up del Polihub, ne conosce tanti, di giovani aspiranti imprenditori, e negli anni ha imparato a valutare non solo il loro talento (sono molte le exit e le storie di successo dell'acceleratore della Fondazione Politecnico di Milano) ma anche i loro tic e i loro limiti. Li racconta ogni martedì sera alle 10 su Reteconomy nella sua rubrica Startup Corner, all'interno del nostro format EconomyUp.
In questa occasione, ci siamo fatti raccontare e sintetizzare da Bogana i dieci errori più frequenti tra gli startupper. Se avete un'idea e sognate di diventare il nuovo Zuckerberg, stampate questa pagina e attaccatela vicino al vostro computer. POS Software - Shopify iPad Point of Sale Software. Orders at your fingertips Whether placed in-store, online or from a mobile device, all your orders are automatically synced through Shopify.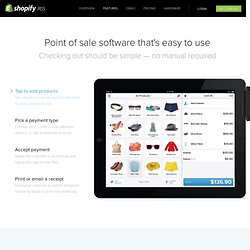 Our POS software makes it easy to manage orders from your computer, iPhone, or in-store iPad. Now you can refund an item, look up transaction history or print receipts – anytime, anywhere. Keep track of your daily cash flow. Silk Biomaterials - Che Futuro! How to Price Your Hardware Product. About the Author: Marc Barros is the co-founder and former CEO of Contour Cameras.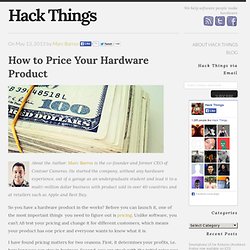 He started the company, without any hardware experience, out of a garage as an undergraduate student and lead it to a multi-million dollar business with product sold in over 40 countries and at retailers such as Apple and Best Buy. So you have a hardware product in the works? Before you can launch it, one of the most important things you need to figure out is pricing. Unlike software, you can't AB test your pricing and change it for different customers, which means your product has one price and everyone wants to know what it is. From Nothing To Something. How To Get There. This guest post was written by Meebo CEO Seth Sternberg.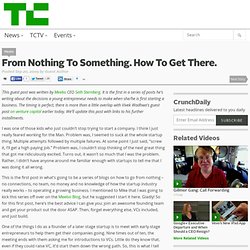 It is the first in a series of posts he's writing about the decisions a young entrepreneur needs to make when she/he is first starting a business. The timing is perfect, there is more than a little overlap with Vivek Wadhwa's guest post on venture capital earlier today. We'll update this post with links to his further installments. I was one of those kids who just couldn't stop trying to start a company. Fondo Italiano di investimento e Gruppo Azimut investono nel nuovo fondo Programma P101. La voce girava da tempo e ora la notizia è ufficiale, il nuovo veicolo nato a seguito delle operazioni del Fondo Italiano di Ivestimento si chaima Programma 101, nome che riprende quello del mitico primo calcolatore della storia dell'informatica messo a punto da Olivetti.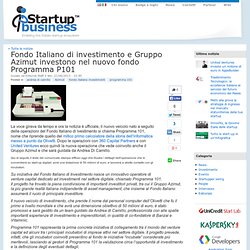 Dopo le operazioni con 360 Capital Partners e con United Ventures ecco quindi la nuova operazione che vede coinvolto anche il Gruppo Azimut e che sarà guidata da Andrea Di Camillo. Qui di seguito il testo del comunicato stampa diffuso oggi che illustra i dettagli dell'operazione che si concentrerà su start-up digitali, avrà una dotazione di 50 milioni di euro, e lavorerà a stretto contatto con gl incubatori. La start-up digitale. Guida pratica step by step. Dall'idea al mercato per il successo: dall'idea all'exit. Premio Gaetano Marzotto. Home | rockstart accelerator. I inspire us | inspire. collaborate. create. Tag, a Milano un campus per startup. Horowitt alle startup italiane: "I soldi da soli sono inutili" Da quando il tema delle startup è divenuto mainstream non si fa altro che parlare di ecosistema.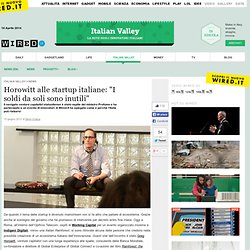 Grazie anche al sostegno del governo che ha promesso di intervenire per decreto entro fine mese. Oggi a Roma, all'interno dell'Opificio Telecom, ospiti di Working Capital per un evento organizzato insieme a Indigeni Digitali, Verso una Italian Rainforest, si sono ritrovate alcune delle persone che credono nella possibile creazione di un ecosistema italiano dell'innovazione. Guest star dell'incontro è stato Greg Horowitt, venture capitalist con una lunga esperienza alle spalle, consulente della Banca Mondiale, co-fondatore e direttore di Global Enterprise of Global Connect e co-autore del libro Rainforest: the secret to building the next Silicon Valley.
Greg è un evangelizzatore, uno che negli ultimi undici anni ha girato il mondo raccontando i presunti segreti della Silicon Valley e dopo aver visto che chi li applicava aveva successo ha messo nero su bianco la teoria della foresta pluviale. Le startup italiane devono imparare da Israele. Shlomo Maital, direttore del Technion Institute of Management israeliano, ha trascorso qualche giorno tra Roma e Milano per parlare della Startup Nation, come Israele è stata definita in un recente libro di succeso, insieme agli stakholder romani, che ha incontrato prima di partecipare alla finale di InnovactionLab, e milanesi, durante un evento al Politecnico.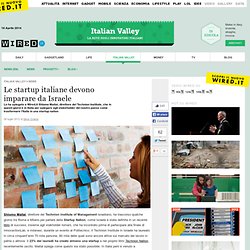 Il Technion Institute in Israele ha laureato in circa cinquant'anni 70 mila persone, 60 mila delle quali sono ancora attive sul mercato del lavoro in patria o altrove. Il 23% dei laureati ha creato almeno una startup e nel proprio libro Technion Nation, recentemente uscito, Maital spiega come questo sia stato possibile. In Italia però è venuto a raccontare il modello israeliano per l'innovazione e noi l'abbiamo incontrato per capire quali similitudini ci sono fra il suo paese e il nostro e come l'Italia possa diventare anch'essa una startup nation.
The Event Strategy. Jason Cohen has a great post on unfair advantages.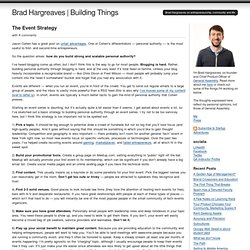 One of Cohen's differentiators — personal authority — is the most useful to first- and second-time entrepreneurs. So the question arises: how do you build strong and scalable personal authority? I've heard blogging come up often, but I don't think this is the way to go for most people. Blogging is hard. Come proporre la tua startup al ministro Passera. Startups, This Is How Design Works – by Wells Riley. Class 9 Notes Essay. Peter Thiel's CS183: Startup - Class 9 Notes Essay Here is an essay version of my class notes from Class 9 of CS183: Startup.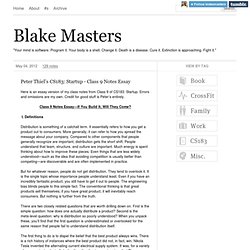 Errors and omissions are my own.
---