Desenvolvimento
Apps for Media Owners Mippin App Factory Create your app in five minutes Brilliant apps on every platform made by you Enables any media owner to build a native, cross-platform app in minutes 100,000+ apps built and published in app stores globally Positions Mippin as the world's leading app builder platform Visit Mippin App Factory
Award winning app-creation platform.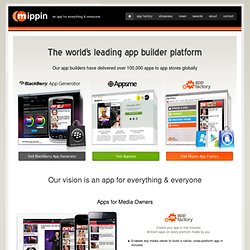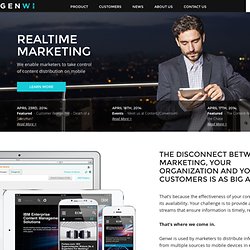 This either means that the username and password information in your wp-config.php file is incorrect or we can't contact the database server at 127.0.0.1. This could mean your host's database server is down. Are you sure you have the correct username and password?
You can either spend a tremendous amount of time and money creating and managing different versions of each application — or you can get Motorola Solutions' RhoMobile Suite, a powerful set of development tools that help businesses mobilize their workers, no matter what technology is in their hands. With RhoMobile Suite, comprised of RhoElements, Rhodes, RhoConnect, RhoStudio, RhoHub and RhoGallery, device type, operating system and screen size don't matter. RhoMobile Suite applications simply work on whatever mobile devices are in use and you have complete control over how applications behave on different devices. RhoMobile applications are OS-agnostic, able to support enterprise- and consumer-class operating systems so you can write, integrate, deploy and manage applications that work across platforms, from iOS and Android to Windows Mobile and systems that don't even exist yet, on both consumer and enterprise devices.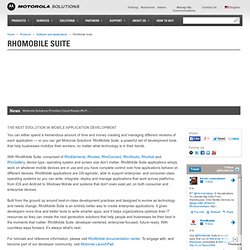 A good app should be beautiful, unique, useful and intuitive. Our Professional Services division will guide you through the entire mobile solutions process. Maybe you know what you want but you're not exactly sure how to get there? We can help you find your way with our Discovery Phase.