Desenvolvimento
iPhone Apps Development | Mobile Development by SwebApps. ShoutEm - Make an App - Build Apps with Easy Application Creator. LiveCode - realize fast, compile-free coding | RunRev. Award winning app-creation platform. Apps for Media Owners Mippin App Factory Create your app in five minutes Brilliant apps on every platform made by you Enables any media owner to build a native, cross-platform app in minutes 100,000+ apps built and published in app stores globally Positions Mippin as the world's leading app builder platform Visit Mippin App Factory.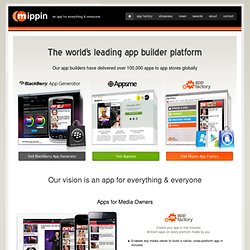 GENWI helps content publishers quickly and easily create highly engaging apps with a revolutionary cloud-based mobile content management system. Cross-Platform Mobile App Development | Rhomobile. You can either spend a tremendous amount of time and money creating and managing different versions of each application — or you can get Motorola Solutions' RhoMobile Suite, a powerful set of development tools that help businesses mobilize their workers, no matter what technology is in their hands.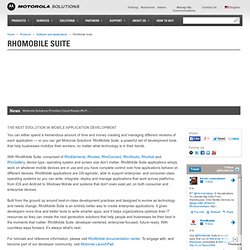 With RhoMobile Suite, comprised of RhoElements, Rhodes, RhoConnect, RhoStudio, RhoHub and RhoGallery, device type, operating system and screen size don't matter. RhoMobile Suite applications simply work on whatever mobile devices are in use and you have complete control over how applications behave on different devices. RhoMobile applications are OS-agnostic, able to support enterprise- and consumer-class operating systems so you can write, integrate, deploy and manage applications that work across platforms, from iOS and Android to Windows Mobile and systems that don't even exist yet, on both consumer and enterprise devices.
Bizness Apps - Mobile Apps For Businesses Made Easy™ AppMakr :: iPhone App Maker | Make your own iPhone App | Free iPhone App Maker. ViziApps: Build Mobile Apps Online. Red Foundry – Mobile Made Easy - Red Foundry is a complete solution for building and managing mobile apps.
---