Interessante
Dr. Robert B. Cialdini, President of INFLUENCE AT WORK (IAW), Arizona State University Regents' Professor Emeritus of Psychology and Marketing at Arizona State University and New York Times Bestselling Business Author… "In the last 30 years, we have identified, tested and deployed core principles of influence proven to create positive change across organizations and industries.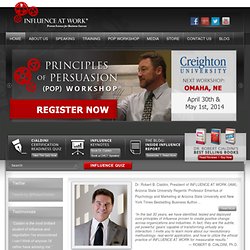 INFLUENCE AT WORK | INFLUENCE AT WORK- Official Site
Casal Adélia, no centro de Portugal em Alcaravela
O Casal Adélia, propriedade que deu nome à rua, é uma Casa de Campo murada com um pequeno terreno que se estende em socalcos. O primeiro socalco, com canteiros ajardinados e algumas árvores, serve de "terraço" à casa principal. Para a casa entra-se por um hall com a escadaria de acesso ao 1º andar. À volta das escadas, distribuem-se os 4 quartos, todos com wc privativo, conferindo-lhe capacidade para 8 pessoas. O r/c conta com 3 salas (jantar, estar e tv) 2 wcs sociais e cozinha, totalmente equipada, que comunica com o exterior através de uma marquise envidraçada.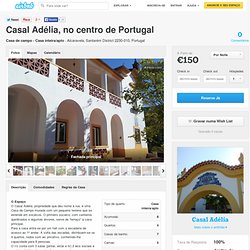 www.note.org.pt
Origem: Wikipédia, a enciclopédia livre. Paolo Soleri (Turim, 21 de junho de 1919 – 9 de abril de 2013)[1] [2] foi um arquiteto italo-americano. Foi professor na Faculdade de Arquitetura da Universidade do Arizona. Arcosanti[editar | editar código-fonte] Seu maior projeto é o Arcosanti, uma comunidade planejada para 5.000 pessoas, em construção desde 1970. O projeto é baseado nos conceitos de Arcologia, arquitetura com ecologia.
Paolo Soleri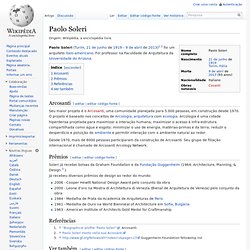 apr 04, 2014 WATCH: naoto fukasawa elaborates on the company's attention to craftsmanship, and his own approach to » 0 shares last week designboom attended the inaugural mextropoli architecture festival in mexico city. the balloon-powered internet system will begin its 2nd lap, where it will traverse over the pacific ocean »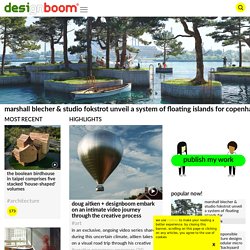 As Obras em Sua Casa: Renovação, Remodelação, Reabilitação
Off-ramp: How demolishing freeways is reviving American cities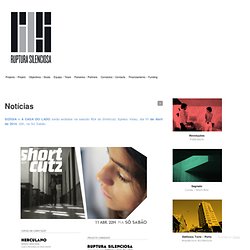 Notícias - Ruptura Silenciosa
SIZÍGIA faz parte da seleção oficial do Architecture Film Festival Rotterdam 2013. Será exibida no dia 11 de Outubro, às 19.45, juntamente com o filme 'Reconversão' de Thom Andersen, no Cinema Lantarenvenster, desenhado por Álvaro Siza. "O mundo ordenado e acessível das formas da arquitectura. Tradição Clássica e Movimento Moderno na Arquitectura Portuguesa: dois exemplos", livro de José Miguel Rodrigues, será lançado no dia 17 de Outubro, às 18h30, no Auditório Fernando Távora da Faculdade de Arquitectura da Universidade do Porto, com apresentação a cargo de José António Bandeirinha. PANORAMA - Ante-estreia, dia 11 de Setembro, 22h, Cinema Nun'Álvares, Porto. ÍNSUA - Estreia, dia 13 de Setembro, 22h, Cinema Nun'Álvares, Porto.
Deserted Europe: 20 Hauntingly Abandoned Buildings
Deserted Europe: 20 Hauntingly Abandoned Buildings Article by Urbanist, filed under Abandoned Places in the Architecture category. (Article information and images provided by Bart of Urban Travel) It is one thing to think about visiting that haunting abandoned building on the edge of town – but it is quite another thing to actually brave not one but hundreds of deserted places like Bart of Urban Travel. Here are 20 factories, mines, castles, churches, homes, estates, prisons, military and state buildings from all over East and West Europe visited, photographed and documented by Bart on his travels.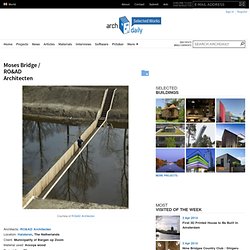 Moses Bridge / RO&AD Architecten
Architects: RO&AD Architecten Location: Halsteren, The Netherlands Client: Municipality of Bergen op Zoom Material used: Accoya wood Project Area: 50 sqm Photographs: Courtesy of RO&AD Architecten The West Brabant Water Line is a defense-line consisting of a series of fortresses and cities with inundation areas in the south-west of the Netherlands. It dates from the 17th century but fell into disrepair in the 19th century. When the water line was finally restored, an access bridge across the the moat of one of the fortresses, Fort de Roovere, was needed. This fort now has a new, recreational function and lies on several routes for cycling and hiking. It is, of course, highly improper to build bridges across the moats of defense works, especially on the side of the fortress the enemy was expected to appear on.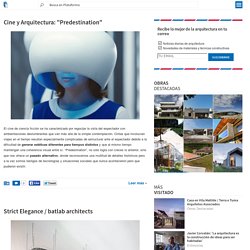 Henderson-Hopkins School / Rogers Partners © Albert Vecerka-Esto Arquitectos: Rogers Partners Ubicación: 2100 Ashland Avenue, Baltimore, MD 21205, USA Arquitectos A Cargo: Robert M. Rogers, FAIA, Partner, Líder D Proyecto: Vincent Lee, AIA, Associate Partner Director De Proyecto: Timothy Fryatt, Associate, Arquitecto De Proyecto: Kip Katich, AIA Área Proyecto: 11612 m2 Año Proyecto: 2014 Fotografías: Albert Vecerka-Esto
TURA Architecture Tourism
This article by Marc Kristal from Metropolis Magazine, originally titled "Digital Details," looks at the work of NRI, a New York company that is leading the way when it comes to 3D Printing (or rather, additive manufacturing) – finding that there is a craft in these machine-produced models after all. First things first: The term "3-D printing" is a misnomer according to Arthur Young-Spivey, the digital fabrication specialist at NRI—a 116-year-old, New York–headquartered supplier of reprographic services to architects and their tradespeople. "The correct term is 'additive manufacturing,'" he explains. "People call it 3-D printing because it enables you to wrap your head around it, but in some ways it's confusing." Young-Spivey has a point, as the process by which a digital file is converted into an object isn't "printing" in the commonly understood sense of applying pigment on a substrate.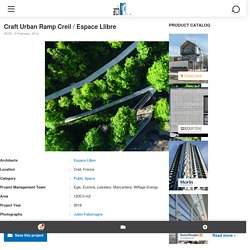 Most people who intend to visit the Palladian villas go to the Riviera del Brenta for the now traditional boat tour, to sail the river Brenta upstream from Venice to Padua or the other way round, and to stop along the riverside to admire the marvellous buildings the Venetian noblemen had built. Not everybody knows, though, that most of those villas are called "Palladian" not because Palladio had them built, but because they are inspired by the principles and canons of that architecture which expresses itself best in those villas Palladio really had built, two centuries before, mainly in the province of Vicenza. Thus, the study and the discovery of the villa can not go without a visit to the province, where Palladio left his most substantial part of his heritage, which, over the centuries, has inspired not only the villas on the river Brenta, but also the Anglo-Saxon, the French and the European world generally and stretches also overseas.
The villas by Andrea Palladio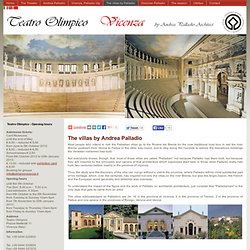 Arquitetura telecomandada (vídeo)
FRAC Centre em Orleães, França, disponibilizou um vídeo da exposição "Flight Assembled Architecture" no qual podemos ver robôs telecomandados a construir uma torre com módulos de espuma. (FRAC Centre) Desde 2 de dezembro de 2011 que se realize em Orleães, França, a exposição "Flight Assembled Architecture", durante a qual os visitantes podem ver uma torre de seis metros ser construída por robôs voadores telecomandados , usando módulos pré-fabricados de espuma de poliestireno. A exposição realiza-se no FRAC Centre e permanecerá aberta até ao dia 19 de fevereiro, mas o centro já disponibilizou um novo vídeo de oito minutos que nos permite ter uma ideia mais completa de como se desenrola todo o processo.