Anon
by Steve Ragan - Mar 18 2011, 16:00 While sorting through emails from the HBGary incident, associates of Anonymous discovered links that suggest an established U.S. government contractor was the winner of a bid to develop persona management software for the U.S. Central Command (USCENTCOM). What is this technology? As a U.S. citizen, should you be concerned by its development and use? Earlier this week, Anonymous reported on discoveries made while examining the HBGary and HBGary Federal email archive they released to the Web.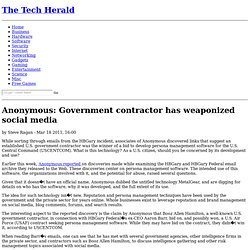 Anonymous: Government contractor has weaponized social media
#OpNewBlood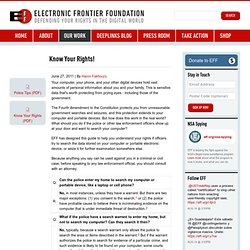 Your computer, your phone, and your other digital devices hold vast amounts of personal information about you and your family. This is sensitive data that's worth protecting from prying eyes - including those of the government. The Fourth Amendment to the Constitution protects you from unreasonable government searches and seizures, and this protection extends to your computer and portable devices. But how does this work in the real world?
Know Your Rights!
radiohax.wikispaces
ToNoobs
IRC Basics