Bricolage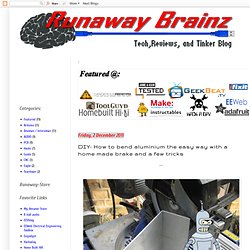 DIY: How to bend aluminium the easy way with a home made brake and a few tricks
If you have ever been into electronics in any particular way the problem often arises at the end of a project the enclosure "What the hell am i going to put all this in !" Some people's standards are different to others and some are quite happy putting their projects in any type of box and believe me I've seen some things online verging from a pc in a cardboard box to amplifiers in cigar boxes.
Library | San Francisco Victorian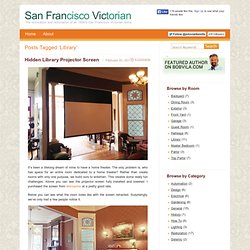 It's been a lifelong dream of mine to have a home theater.
f_wooddecks.pdf (application/pdf Object)
Making Springs: Part 2
Making Springs on the Small Lathe Part 2: Compression springs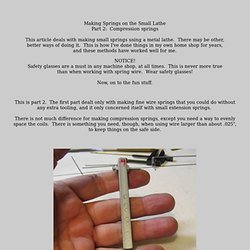 Les copeaux de jean-marie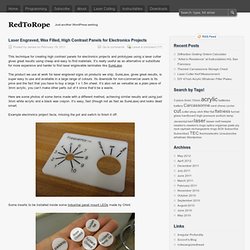 This technique for creating high contrast panels for electronics projects and prototypes using a laser cutter gives great results using cheap and easy to find materials. It's really useful as an alternative or substitute for more expensive and harder to find laser engravable laminates like SureLase .
Laser Engraved, Wax Filled, High Contrast Panels for Electronics Projects | RedToRope
How to Make an Inexpensive Wi-Fi Radio With an Asus Router and USB Sound Card
Asciimation » Blog Archives » A steampunk record player.
November 30th, 2010 I finally finished off the last few details on the steam powered record player and gave it the first full test on live steam! The engine and base and other hardware are complete but the software could use some work.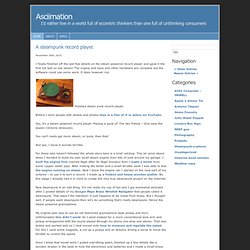 Homemade BB Gun using a One Way Valve « Split Reaction
Translate
rdt piattaforma pantografo montauto lift montacarichi sollevamento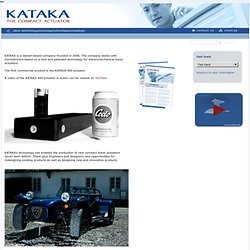 main - KATAKA ®
KATAKA is a Danish-based company founded in 2006. The company works with mechatronics based on a new and patented technology for electromechanical linear actuators.
How It's Made (Season 8 / Episode 7 / Part 2)
Eleonore Deco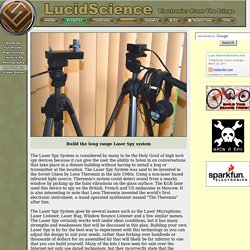 Build the LASER SPY DEVICE - Page 1 of 18
Build the long range Laser Spy system
Pièces détachées
Quincaillerie, Fournitures Industrielles et Produits Sidérurgiques
Fiches Techniques Fers
tapplastics's Channel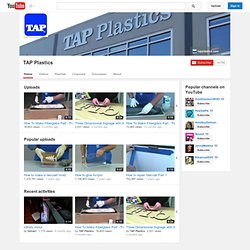 TAP Plastics has been known as the place to go for unique plastic products for nearly 60 years. We cut acrylic sheets to the size and shape you need.
Home Model Engine Machinist - Index