Movies
Inception (2010. Edit Storyline Dom Cobb is a skilled thief, the absolute best in the dangerous art of extraction, stealing valuable secrets from deep within the subconscious during the dream state, when the mind is at its most vulnerable.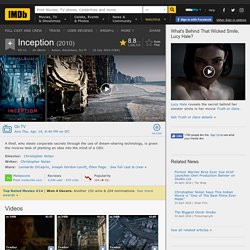 Cobb's rare ability has made him a coveted player in this treacherous new world of corporate espionage, but it has also made him an international fugitive and cost him everything he has ever loved. The Dark Knight (2008) Trivia During the scene where the Joker crashes Bruce Wayne's party for Harvey, when he first appears in the elevator Alfred was meant to have some lines, however this was the first time Michael Caine had seen Heath Ledger with the Joker make up on, you can even see the shocked expression on his face as the Joker walks past him.

See more » Star Wars. Star Wars. Crazy, Stupid, Love. Crazy, Stupid, Love (stylized onscreen as Crazy, Stupid, Love.) is a 2011 romantic comedy-drama film directed by Glenn Ficarra and John Requa, and written by Dan Fogelman.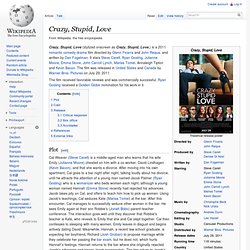 It stars Steve Carell, Ryan Gosling, Julianne Moore, Emma Stone, John Carroll Lynch, Marisa Tomei, Annaleigh Tipton and Kevin Bacon. The film was released in United States and Canada by Warner Bros. Shutter Island (2010) Edit Storyline It's 1954, and up-and-coming U.S. marshal Teddy Daniels is assigned to investigate the disappearance of a patient from Boston's Shutter Island Ashecliffe Hospital.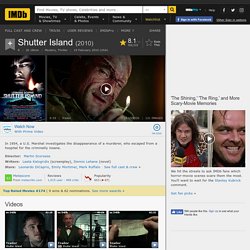 He's been pushing for an assignment on the island for personal reasons, but before long he wonders whether he hasn't been brought there as part of a twisted plot by hospital doctors whose radical treatments range from unethical to illegal to downright sinister. Teddy's shrewd investigating skills soon provide a promising lead, but the hospital refuses him access to records he suspects would break the case wide open. As a hurricane cuts off communication with the mainland, more dangerous criminals "escape" in the confusion, and the puzzling, improbable clues multiply, Teddy begins to doubt everything - his memory, his partner, even his own sanity. Donnie Darko (2001) Edit Storyline Donnie Darko doesn't get along too well with his family, his teachers and his classmates; but he does manage to find a sympathetic friend in Gretchen, who agrees to date him.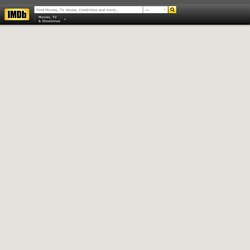 He has a compassionate psychiatrist, who discovers hypnosis is the means to unlock hidden secrets. The Butterfly Effect (2004) Edit Storyline Evan Treborn grows up in a small town with his single, working mother and his friends.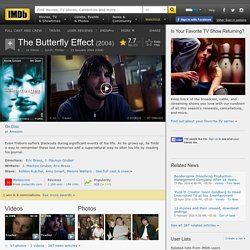 He suffers from memory blackouts where he suddenly finds himself somewhere else, confused. e959fc.jpg (JPEG Image, 450x667 pixels) - Scaled (90%) Evangeline Lilly. Olivia Wilde. The Adventures of Tintin (2011. Edit Storyline Having bought a model ship, the Unicorn, for a pound off a market stall Tintin is initially puzzled that the sinister Mr.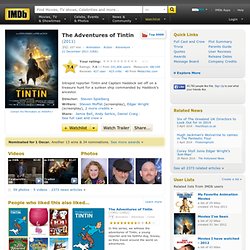 Sakharine should be so eager to buy it from him, resorting to murder and kidnapping Tintin - accompanied by his marvellous dog Snowy - to join him and his gang as they sail to Morocco on an old cargo ship. The Book of Eli (2010. Edit Storyline In a violent post-apocalyptic society, a drifter, Eli, has been wandering westward across North America for the last thirty years.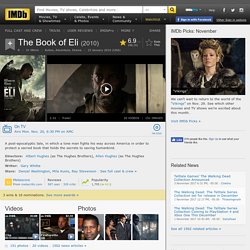 He finds solace in a unique book which he carries on his person and guards closely, whilst surviving by hunting small animals and seeking goods in destroyed houses and vehicles to trade in villages for water and supplies. Black Swan (2010. Edit Storyline Nina (Portman) is a ballerina in a New York City ballet company whose life, like all those in her profession, is completely consumed with dance.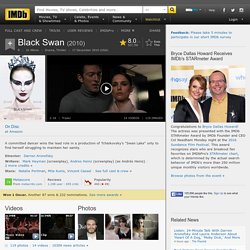 Bad Teacher (2011. Super 8 (2011. Cars 2 (2011. Edit Storyline After Mater gets his best friend, star race car Lightning McQueen, a spot in the very first World Grand Prix, he is given the job of pit crew chief.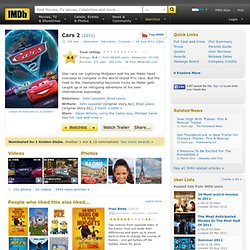 But while they are in Japan, Mater crosses paths with Holly Shiftwell, a spy searching for an American spy. Unknown to Mater, the American spy attached a tracking device on him while being attacked. Zookeeper - Le Héros des animaux (2011. Transformers: Dark of the Moon (2011. Goofs During Sam's flashback of receiving his medal from the President, Sam's hair is parted on the RIGHT Side of his head yet when he meets Carly, a very short time later, his hair is parted on the LEFT Side of his head.
See more » Harry Potter and the Deathly Hallows: Part 2 (2011. Genre: Animation.
---