When You're Bored...
Nintendo Papercraft
LoZ Timeline explained
Legend of Zelda, The - Ocarina of Time (USA) < Nintendo 64 / N64 ROM Download
Legend of Zelda, The - Majora's Mask (USA) < Nintendo 64 / N64 ROM Download
I Could Make That
Back in the spring of 2013, I agreed to make a large number (large by the standards of things that are handmade, anyway) of plush kobolds for 9th Level Games, who were Kickstarting a deluxe edition printing of their popular game Kobolds Ate My Baby. In December, the kobolds were finally shipped out, to terrorize homes around the world. Here's a look at what happened between April and December, at just how those 65 small fuzzy kobolds came into the world.
This project comes to you at the request of Twitterer @GCcapitalM. I used to believe that a person could never have too many books, or too many bookmarks. Then I moved into an apartment slightly larger than some people's closets (and much smaller than many people's garages) and all these beliefs got turned on their naïeve little heads. But what a person can always look for more of is really cool unique bookmarks. Placeholders special enough for the books that are special enough to remain in your culled-out-of-spacial-necessity collection. Page corner bookmarks are cute, practical and deeply under-represented in the world.* They're easy to make, easy to customize, and will set you apart from all those same-same flat rectangular bookmarks.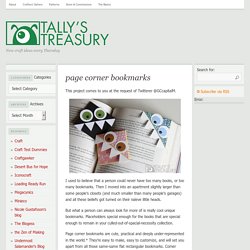 page corner bookmarks | I Could Make That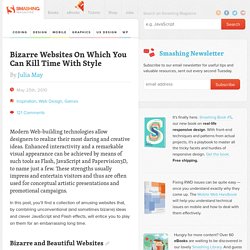 Advertisement Modern Web-building technologies allow designers to realize their most daring and creative ideas. Enhanced interactivity and a remarkable visual appearance can be achieved by means of such tools as Flash, JavaScript and Papervision3D, to name just a few. These strengths usually impress and entertain visitors and thus are often used for conceptual artistic presentations and promotional campaigns. In this post, you'll find a collection of amusing websites that, by combining unconventional (and sometimes bizarre) ideas and clever JavaScript and Flash effects, will entice you to play on them for an embarrassing long time.
Bizarre Websites On Which You Can Kill Time With Style - Smashing Magazine
New! If you like Otomata, check out my new instrument Circuli by clicking here! Update: Click here to get Otomata for your iPhone / iPod / iPad!
Otomata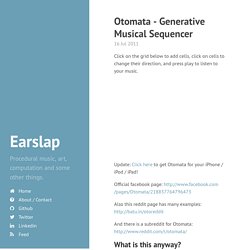 BallDroppings
Eric Ishii Eckhardt / Hunting Arrows
Television - TV without context
Sintel - Third Open Movie by Blender Foundation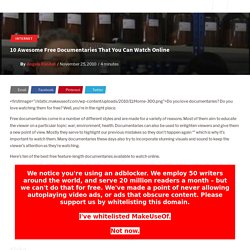 10 Awesome Free Documentaries That You Can Watch Online
Free documentaries come in a number of different styles and are made for a variety of reasons. Most of them aim to educate the viewer on a particular topic: war; environment; health. Documentaries can also be used to enlighten viewers and give them a new point of view. Mostly they serve to highlight our previous mistakes so they don't happen again "" which is why it's important to watch them. Many documentaries these days also try to incorporate stunning visuals and sound to keep the viewer's attention as they're watching. Here's ten of the best free feature-length documentaries available to watch online.
Final Fantasy VII Advent Children COMPLETE [HQ] English Subbed