Resources (DL-able)
Kyle's ULTIMATE Drawing Set
Pencil Looking Brush by *palnk
some people asked how i did the somewhat traditional looking, digital art i posted today all i did was give differentl setting to a standard photoshop brush to make it look like how the lines of scaned mechanical pencil look on my pc so here is the stanard/default photoshop brush ( i cannot take credit for that) and the brush with the settings i gave ( ill take credit for that)its a very small brush since it emulates... kinda... a line from a pencil you can change the size as every other brush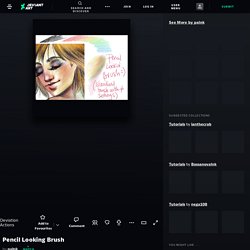 BittersweetDisease's Basic Brush Set by =BittersweetDisease
Just click "download file" to get the .abr file. I do not know if abr-files are supported by photoshop versions older than the CS-series. So I cannot answer your questions if it will work on your computer and so on. RULES OF USE:You do not need to credit me when using these brushes in a deviation. - YOU ARE NOT ALLOWED to reupload my brushes claiming it as your own creation.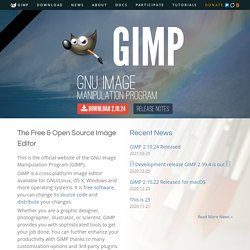 GIMP is the GNU Image Manipulation Program. It is a freely distributed piece of software for such tasks as photo retouching, image composition and image authoring. It works on many operating systems, in many languages.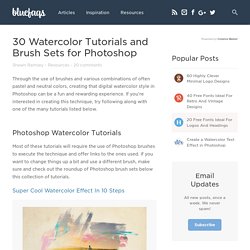 Through the use of brushes and various combinations of often pastel and neutral colors, creating that digital watercolor style in Photoshop can be a fun and rewarding experience. If you're interested in creating this technique, try following along with one of the many tutorials listed below. To help you gather resources, I've also included 15 of some of the best Photoshop watercolor brush sets available, located just below the tutorial roundup. Enjoy! Photoshop Watercolor Tutorials
Hey guys, the time for Friday roundup has come and we want to share some useful resources featuring free Photoshop brushes with you. We all know that brushes turn out to be the essential tools for web designers and help to add the desired atmosphere to the websites. Using this Photoshop tool, it is possible to give the design the impressive touch and make it catchy. Of course, you have seen a vast amount of brush sets all around the web, but here you can find the top-notch collection of the most popular among them. We have decided to compile 8500+ various brush sets for our readers and we hope that this post will come in handy and add inspiration for your future designs. So, you are welcome to enjoy this roundup that features the ultimate collection of brushes.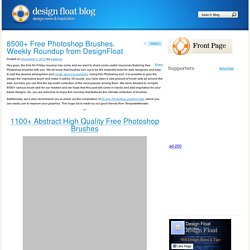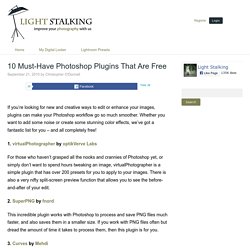 I'm a professional landscape photographer living on the coast of Maine. Through my work, I like to show a vantage point that is rarely seen in reality; a show of beauty, emotion, and serenity. Feel free to visit my website.
Free Textures for Layers - a set on Flickr
Download High Quality Textures for Free - Stone, Wood, Clouds, Sky, Brick, Wall, Metal, Iron, Rusty, Grass, Concrete textures
The Resource Roundup #2 by $eStunt on deviantART
Within the average eCommerce website, close to 70 percent of consumers agree that the overall quality of the featured product images plays a significant role in determining which products are selected and purchased, according to MDG Advertising. There are some ecommerce tips you can use to captivate the attention of your customers and keep them interested with photographs of your products. Presentation, Presentation, and Presentation Having an abundance of product photos and images on your website is important, but you should not stop there.