Arts and Crafty
Bonus | Magazine
Closet Makeovers and the Cost to Get Organized Find the cost of various closet systems and cabinet components to conquer your clutter once and for all. Read more Ceramic Tile Estimator - How Many Tiles to Buy Use this calculator to estimate how much material to buy for your tile project. Read more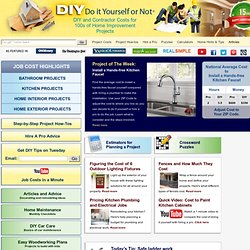 Project Cost - Hang a Wallpaper Border
Okay, okay. Non-obnoxious isn't a word. But neither is unobnoxious. Not really, anyway.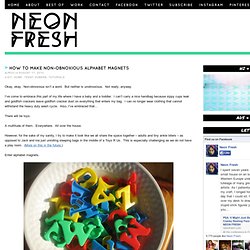 7 Creative Uses To Recycle Wine Bottles Free shopping list and step by step instructions for 4 popular holiday wine crafts What do you do with your leftover wine bottles? Do they make their way to the uninspired recycle bin awaiting their fate in a fiery furnace? Maybe you're like me and save a few of your memorable bottles and they adorn the tops of your kitchen cabinet. I still have the bottle of wine that we were drinking when I proposed to my wife.
7 Creative Uses To Recycle Wine Bottles
Themed Fonts Download Free Movie and Music Fonts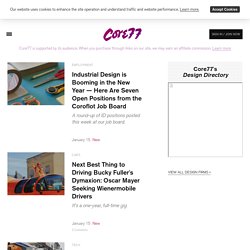 Posted by Ray | 4 Apr 2014 | Comments (0) The phrase "balloon chair" could mean any number of things, really, so h220430's take fits the bill as well as any of the possibilities (according to their website, the company takes its name from its birthday). If I understand the description correctly, the chair is mounted to the wall, as is its canopy of airless FRP (i.e. non-deflating) balloons, but this scarcely detracts from its visual effect. According to the Tokyo-based design studio, "if you sit in this chair, you'll be able to think positive thoughts even if you are feeling down."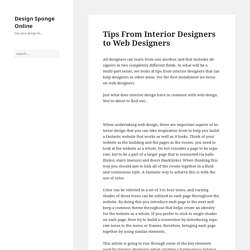 When we were discussing ideas for new columns this year, I sat back and thought about what I felt was really missing from the web. I kept coming back to the idea of decorating, but I wanted to tackle something more practical and knowledge-based, rather than just inspiration. While trying to shape the column's focus I was reminded of an important lesson I learned while writing Design*Sponge at Home: photographs should teach and not just describe.
Free Vintage Clip Art - Paris Advertising Ephemera
mask-graphicsfairy004.jpg (JPEG Image, 1600x798 pixels) - Scaled (71
Mod Podge'ing paper to pre-stretched canvas is nothing new in the craft world, but deliberately allowing paper to moisten, crinkle, oversaturate, and images to smudge & deteriorate for the sake of art, might be a bit different than you're used to. The combination of Mod Podge Matte finish for paper and vintage typewriter paper that's been run through the printer make for a pretty cool effect when laminated to canvas. An effect, that in most cases, would have you in tears, so be warned that this is NOT a project for the perfectionist, we're going to get messed up on this one to create very cool faux antique wall decor. I found an old and grungy deck of playing cards with fantastic graphics. I gotta tell you, getting my hands on this discarded old pack was seriously just short of a full-on dumpster dive, though I'll spare you the details. But it just goes to show you that you can find beauty in the least of places.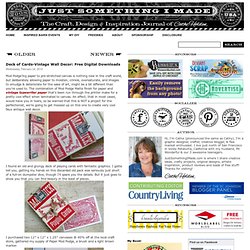 Deck of Cards-Vintage Wall Decor: Free Digital Downloads
[ Close Privacy Policy ] Privacy Policy / Your California Privacy Rights Revised and posted as of March 4, 2013 Prime Publishing, LLC ("Company," "we" or "us") reserves the right to revise this Privacy Policy at any time simply by posting such revision, so we encourage you to review it periodically. In order to track any changes to this Privacy Policy, we will include a historical reference at the top of this document. This Privacy Policy will tell you, among other things: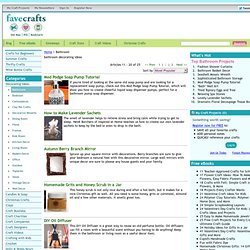 Bathroom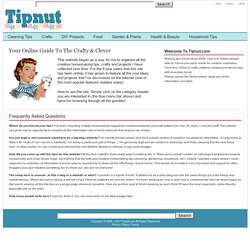 Frequently Asked Questions Where do you find all your tips? I've been collecting vintage homemaking magazines, books/cookbooks and craft patterns for over 20 years, I love this stuff! The internet has given me an opportunity to compile all this information into a handy resource that anyone can review.
Let's talk about plants (again). Okay so I'm not a plant person, I'm a total flower girl. And this has NOTHING to do with not liking plants and more to do with killing them quicker than I'm betting any human can possibly kill a plant. I was raised with plants in the house, my mother loves them, and my husband has a windowsill full of them in his home office which he cares for beautifully. Me, well I have a single aloe vera plant on my window and in the kitchen, a few unknown species and some succulents, and I've even managed to kill succulents so you can already see that something wasn't wired correctly in my head.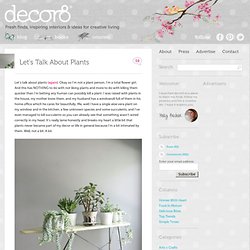 decor8 » decorating