ELA
A to Z Teacher Stuff Printable Pages and Worksheets | Dr. Seuss Themed Printables & Worksheets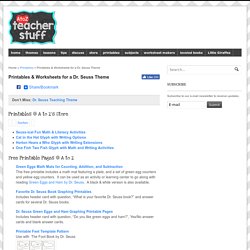 Printables @ A to Z's Store Free Printable Pages @ A to Z This free printable includes a math mat featuring a plate, and a set of green egg counters and yellow egg counters. It can be used as an activity or learning center to go along with reading Green Eggs and Ham by Dr.
School-Home Links Reading Kit: Third Grade Activities Table of Contents
A r c h i v e d I n f o r m a t i o n School-Home Links Reading Kit - February 1999 Cover page | A Word to Families and Tutors Listed below are 100 School-Home Links activities for the third grade. The activities are organized by reading and literacy skills appropriate to this grade.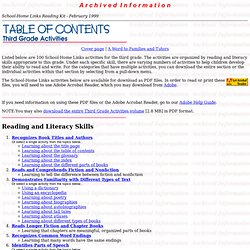 Print Free Creative Writing Activities and Worksheets for Young People.
This section of our web site features over 100 creative writing activities for young people. Our printable classroom materials include thank you notes, blank themed writing paper, poetry activities, and more. It is our hope that your students enjoy all aspects of the writing process and learn about themselves and the world around them in the process. In order to view and print these worksheets you will need to have Adobe Reader version 6 or later.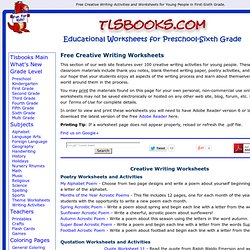 persuasion
Two
Page 2: Classroom-based accommodations and interventions for written expression difficulties One method for supporting children with written expression difficulties in the classroom is to provide accommodations and/or interventions for the specific challenges. The following are some features of effective written instruction that you can use in your classroom: -A literate classroom environment -Daily writing -Make writing motivating -Set regular teacher/student conferences -Create a predictable writing routine -Display overt teacher modeling -Include cooperative arrangements -Include a broad range of instructions -Integrate writing activities across the curriculum Below are ten classroom-based accommodations and interventions.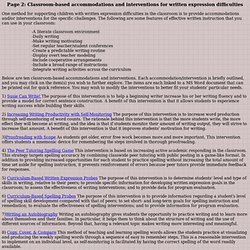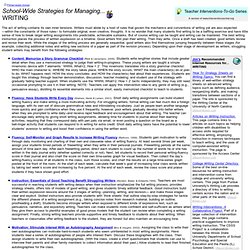 The act of writing contains its own inner tensions. Writers must abide by a host of rules that govern the mechanics and conventions of writing yet are also expected—within the constraints of those rules-- to formulate original, even creative, thoughts. It is no wonder that many students find writing to be a baffling exercise and have little sense of how to break larger writing assignments into predictable, achievable subtasks.
From Jim Wright: Intervention Ideas for WRITING
Writing Probe Generator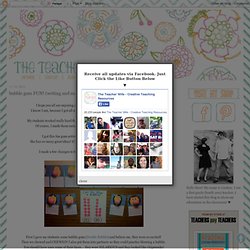 I hope you all are enjoying your weekend! (Thank goodness for Saturdays, right?) I know I am, because I got all my grades finished and handed out yesterday.
bubble gum FUN! (writing and math)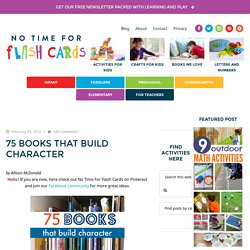 This is a great list and I as enjoyed the different opinions of so many people. I have grown children who still want (and receive) a children's book each year for Christmas and other special occasions in their lives. They each a quite a personal library to share with their children someday and each one has a special memory. I would like to add: Any of Paticia Polacco books She is one of my favorite authors and my children have gotten several of her books to mark special occasions for me!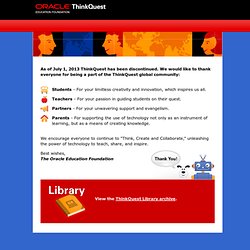 Web page
As of July 1, 2013 ThinkQuest has been discontinued. We would like to thank everyone for being a part of the ThinkQuest global community: Students - For your limitless creativity and innovation, which inspires us all. Teachers - For your passion in guiding students on their quest.