Groups
Emerging Cinematographer Awards :: Home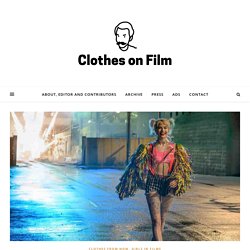 © 2014 Lord Christopher Laverty. All rights reserved. No round up last week because we were a bit busy, so this week is MEGA JAMMED WITH COSTUME GOODNESS.
Clothes on Film | Screen style & identity
FilmmakerIQ.com In this exclusive SoundWorks Collection sound profile we visit Park Road Post Studios in Wellington, New Zealand to talk with the sound team of Director Peter Jackson's The Hobbit: The Desolation of Smaug. Featured interviews include Re-recording Mixer Michael Hedges, Re-recording Mixer Chris Boyes, Re-recording Mixer Michael Semanick, Re-recording Mixer Gary Summers, Composer Howard Shore, and Producer & Co-Screenplay Writer Philippa Boyens.
SOC - The Society of Camera Operators: Home
<div class='message error'><strong>Javascript Disabled Detected</strong><p>You currently have javascript disabled. Several functions may not work. Please re-enable javascript to access full functionality.</p></div><br /> Toggle Cinematography Forums Cinematography Forums Cinematography Books
Cinematography.com - Community, Education, News and Resources for Cinematographers
Texas Casting Calls, Texas Film Crew Calls, Texas Short Films and Texas Film News | Short Film Texas | The Texas Film Resource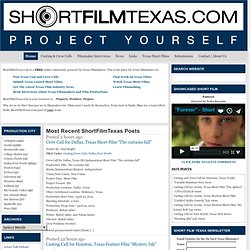 Casting Call for Austin, Texas Student Scene "50/50″ Casting Call for Austin, Texas HD Student Scene "50/50″ Production Title: Scene from 50/50 Studio/Independent/Student: Student Union/Non-Union: Non-Union Project Type: Student Project Format: HD Production Location: Austin, Texas Production Start Date: February 05, 2015 Shooting Schedule: presentation in class Director: Stephanie Mora Synopsis: Short 3 minute scene from the film 50/50 in which Adam talks to his therapist Katherine about his mother and end up [...] Casting Call for Austin, Texas Short Film "Somewhere Loved"
Friends of the ASC: Cinematographer's Journal: Friends Exclusive ASC Members: Patrick Cady, C. Baffa and William Webb Breakfast Club Videos: Friends Exclusive New Private Forum
ASC: The American Society of Cinematographers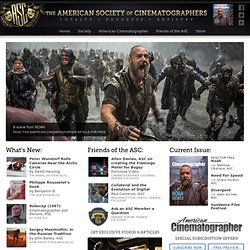 Dallas Film Society
Tuesday, January 07, 20142014 Texas Filmmakers Showcase Accepting EntriesPresented by the Houston Film Commission, the Texas Filmmakers Showcase is a special screening event consisting of the best of Texas short films and videos (less than 40 minutes in length) shown to studio executives, agents and producers in the Hollywood film community. The filmmakers whose … Tuesday, November 26, 2013Registration Open for Austin FilmWorks Spring Cinematography and Directing ClassRegistration is open for Austin FilmWorks' Spring 2014 course, 'The Film Mind: Advanced Cinematography and Directing.' The course blends an in-depth examination of current large sensor digital cinematography with classic filmmaking techniques, both aesthetic and technical.
Texas Film Commission, Office of the Governor Rick Perry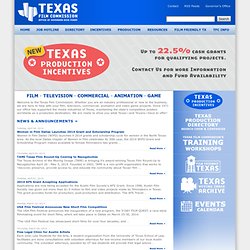 Texas Motion Picture Alliance
Screen Actors Guild
Student Filmmakers - Network, Workshops, Film Video Contests Camera Forums Cinematography Forum Directors, Actors Magazine