Groups
Emerging Cinematographer Awards :: Home. Clothes on Film | Screen style & identity. FilmmakerIQ.com. SOC - The Society of Camera Operators: Home. Cinematography.com - Community, Education, News and Resources for Cinematographers. Texas Casting Calls, Texas Film Crew Calls, Texas Short Films and Texas Film News | Short Film Texas | The Texas Film Resource. ASC: The American Society of Cinematographers. Dallas Film Society. Texas Film Commission, Office of the Governor Rick Perry. Tuesday, April 08, 2014Women in Film Dallas Launches 2014 Grant and Scholarship ProgramWomen in Film Dallas (WIFD) launches it 2014 grants and scholarship cycle for women in the North Texas area.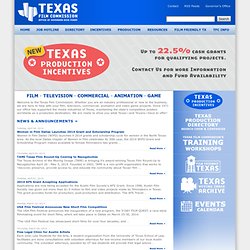 As the local Dallas chapter of Women in Film celebrates its 30th year, the 2014 WIFD Grant and Scholarship Program makes available to female filmmakers two grants … Thursday, April 03, 2014TAMI Texas Film Round-Up Coming to NacogdochesThe Texas Archive of the Moving Image (TAMI) is bringing it's award-winning Texas Film Round-Up to Nacogdoches April 26 - May 3, 2014.
Founded in 2002, TAMI is a non-profit organization that works to "discover, preserve, provide access to, and educate the community about Texas' film … Tuesday, April 01, 20142014 AFS Grant Accepting ApplicationsApplications are now being accepted for the Austin Film Society's AFS Grant. Since 1996, Austin Film Society has given out more than $1.5 million to film and video projects made by filmmakers in Texas. Texas Motion Picture Alliance. Screen Actors Guild. Student Filmmakers - Network, Workshops, Film Video Contests Camera Forums Cinematography Forum Directors, Actors Magazine.
---