Mason Jars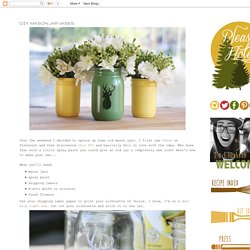 Over the weekend I decided to spruce up some old mason jars. I first saw these on Pinterest and then discovered this DIY and basically fell in love with the idea. Who knew that with a little spray paint you could give an old jar a completely new look?
DIY: Mason Jar Vases
37 Things To DIY Instead Of Buy For Your Wedding
I am pleased to have Aly from Artisan des Arts as a guest blogger this week! Time : 2 Hours including dry time Instructions: 1.Begin by coating your tile with regular drugstore alcohol.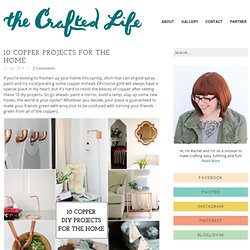 i found this beauty at the thrift store a while back. although the coloring on this really isn't bad, i wanted to have a different color than brown.
painting on ceramics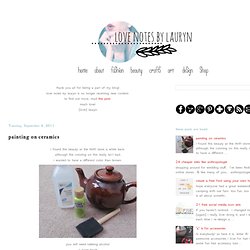 If interested, I answered a few interview questions with Simply Modern Mom here . And a few more questions with The Creative Connection here . (At the end of the interview with Creative Connection, there is a mention of a 2 pattern giveaway from my shop. But hurry, it closes at noon today (MST)…….eeek, sorry for such short notice.)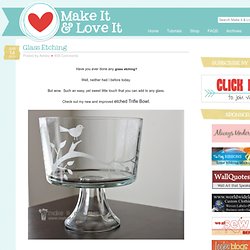 Apothecary Jar
Have you ever heard that song Bandages by Hot Hot Heat? It was a big one when I was in high school and I've got to tell you, I still rock their EP 'Knock Knock Knock' and album 'Make Up the Break Down' on the regular. It's, like, 13 years later and it's still awesome. So, I was headed home from the store where I had kind of compulsively and totally spontaneously threw a can of fluorescent red/pink spray paint in my cart.
I've been experimenting with tinting mason jars to create a look like those old vintage ones that are difficult to find anymore in second hand stores. I think I've finally honed in on the perfect method. Would you like to see how it's done? Check out the DIY here . Fill them with flowers, or illuminate an outdoor party filling them with battery operated tea lights or a strand of twinkle lights.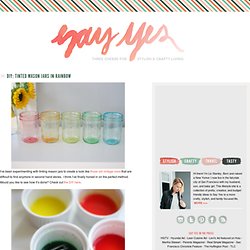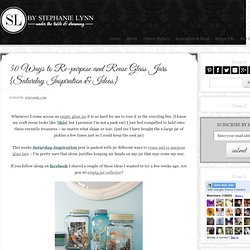 Whenever I come across an empty glass jar it is so hard for me to toss it in the recycling bin. {I know my craft room looks like { this } but I promise I'm not a pack rat} I just feel compelled to hold onto these versatile treasures - no matter what shape or size. {and yes I have bought the x-large jar of pickles a few times just so I could keep the cool jar}