Social Networking
This is anything that has to do with Facebook, Twitter, conferences, Google+ and so much more.
Help. Twitter. TweetGrid - by jazzychad. Buffer is a smarter way to Tweet. HootSuite. Twitter magnets | a delicate push. Writing My Twitter Etiquette Article: 14 Ways to Use Twitter Politely by Margaret Mason. As it turns out, you are one fascinating SOB, and people need to know what you're doing.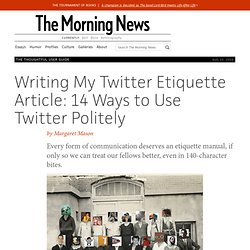 You can almost feel the yearning. What are you doing? When you talk too much for Twitter. Top 10 Ways To Get Re-Tweeted. This post will get straight to the point… If you want to get Re-Tweeted, Implement These - Leave 18-20 characters available in your tweet… allows enough room for your name @ sign and RT.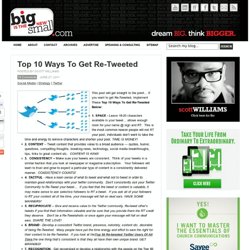 This is the most common reason people will not RT your post, individuals don't want to take the time and energy to remove characters and shorten your post. – Tweet content that provides value to a broad audience — quotes, humor, questions, compelling thoughts, breaking news, technology, social media breakthroughs, tips, links to great content etc. – Make sure your tweets are consistent. Think of your tweets in a similar fashion that you look at newspaper or magazine subscription. Why I love Twitter | Living the Balanced Life. If you're new here, be sure to subscribe so you receive notification of new posts!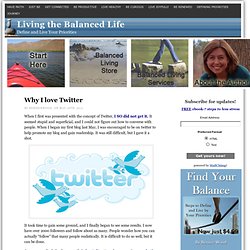 (form to the right --->) Thanks for visiting! When I first was presented with the concept of Twitter, I SO did not get it. It seemed stupid and superficial, and I could not figure out how to converse with people. When I began my first blog last May, I was encouraged to be on twitter to help promote my blog and gain readership. For Twitter chats - storify.com. "I had been using Storify for other things, mainly trends and breaking news in Chicago," Reilley said in a phone interview.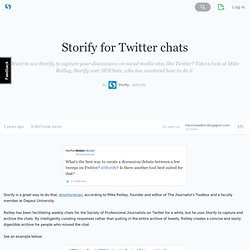 "Then I started using it to teach my students to curate stories. " "Around the same time we were launching the SPJ chats, Storify was in Alpha," he said. "We started archiving the chats because people can't make it every week. There's a high demand for a precise archive that gets to the gist of each chat quickly. " How To Become A Twitter Rockstar - Sort Of. I am pleased to be here writing my first 'official' ProspectMX blog post on a subject that I truly love – Twitter!
If you're not quite sure what I'm talking about, maybe we should start with a brief explanation. Twitter is a 'Micro-Blogging' / Social Media, kinda thing. 12 Tips to Engage People on Twitter. Are you a newcomer to Twitter?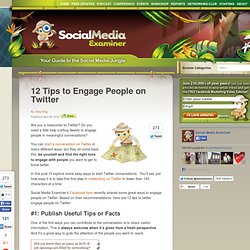 Do you need a little help crafting tweets to engage people in meaningful conversations? You can start a conversation on Twitter in many different ways, but they all come back this: be yourself and find the right tone to engage with people you want to get to know better. Shorten that long URL into a tiny URL. 9 Benefits of Twitter for Bloggers. All Links 20 Characters Or More Are Now Being Shortened With Twitter's "t.co" Like Bit.ly?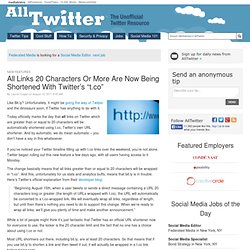 Unfortunately, it might be going the way of Twitpic and the dinosaurs soon, if Twitter has anything to do with it. Today officially marks the day that all links on Twitter which are greater than or equal to 20 characters will be automatically shortened using t.co, Twitter's own URL shortener. And by automatic, we do mean automatic – you don't have a say in this whatsoever.
Google+: everything you need to know. Google has announced a new project, Google+.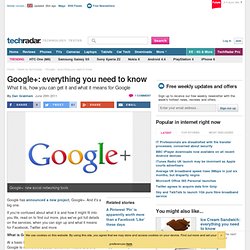 And it's a big one. If you're confused about what it is and how it might fit into you life, read on to find out more, plus we've got full details on the services, when you can sign up and what it means for Facebook, Twitter and more. Following Does Not Equal Attention. I asked people via Twitter: "Does following=attention?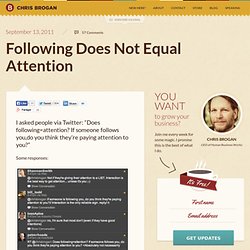 If someone follows you,do you think they're paying attention to you?" Some responses: Some more: And yet, lots and lots of people got upset when they learned that I'm no longer following them on Twitter. PodCamp Cincinnati - Social media - Blogging- Eventbrite. Invalid quantity.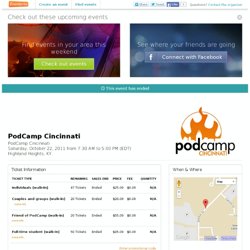 Please enter a quantity of 1 or more. The quantity you chose exceeds the quantity available. Please enter your name. Please enter an email address. Facebook Timeline And 10 Reasons I'm Dumping It For Twitter. Everyone's talking about the 10 Facebook Tips for Power Users. Here's my suggestion... Facebook vs Twitter by.
Patti's stories - storify.com. Social media day celebrated in Cincinnati. CINCINNATI - Social media fans are gathering all over the world to celebrate Social Media Day. In Cincinnati over 100 people are expected to attend an event at 7 p.m. at The Pub at Rookwood Commons in Norwood. Cincinnati was recently named the most social city in the world by the website mashable.com . Blair Ward, a Northern Kentucky University law student submitted the video that earned Cincinnati that title. Ward focused on Cincinnati's famous tweeters like Chad Ochocinco and Brandon Phillips.
---