Best blogs
The Big Picture. Many indigenous groups, including the Huni Kui, Ashaninka, and Madija, live in villages in the Brazilian rainforest near the border with Peru.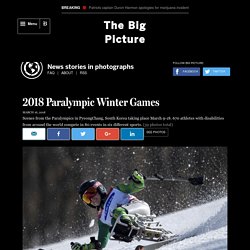 Over the past three years, the Ashaninka and Madija say that they have seen more and more incursions on their territory from uncontacted tribes, defined by Survival International as groups who have no peaceful contact with mainstream society. The "Bravos," or "Braves," as uncontacted Indians are called in the region, carry out raids on other villages, putting the communities along the Envira River on permanent alert. Leaders of the Ashaninka tribe have asked the government and NGOs for help in controlling what they consider an encroachment on their area by these uncontacted indigenous groups, stating that the movement of these other tribes is the result of pressure caused by illegal logging across the border in Peru.
All photos by Lunae Parracho. --Reuters (26 photos total) The Everywhereist's Seattle Travel Blog | Selected Time Top Blogs of 2011 » The Everywhereist. Is not available. The Consumerist. EDC. Cool Hunting. Kill Screen. Catalog Living. The Economy and the Economics of Everyday Life - Economix Blog. By Ken Levine. The Verge. New Car Reviews, Ratings & Pricing, Auto News for New Models.
---