my main influences
Get flash to fully experience Pearltrees
Sir Timothy John "Tim" Berners-Lee , OM , KBE , FRS , FREng , FRSA (born 8 June 1955), [ 1 ] also known as " TimBL, " is a British computer scientist , best known as the inventor of the World Wide Web . He made a proposal for an information management system in March 1989, [ 3 ] and he implemented the first successful communication between a Hypertext Transfer Protocol (HTTP) client and server via the Internet sometime around mid November. [ 4 ] Berners-Lee is the director of the World Wide Web Consortium (W3C), which oversees the Web's continued development. He is also the founder of the World Wide Web Foundation , and is a senior researcher and holder of the Founders Chair at the MIT Computer Science and Artificial Intelligence Laboratory (CSAIL). [ 5 ] He is a director of the Web Science Research Initiative (WSRI), [ 6 ] and a member of the advisory board of the MIT Center for Collective Intelligence . [ 7 ] [ 8 ]
Francisco Javier Varela García (September 7, 1946 – May 28, 2001) was a Chilean biologist , philosopher , and neuroscientist who, together with his teacher Humberto Maturana , is best known for introducing the concept of autopoiesis to biology, and for co-founding the Mind and Life Institute to promote dialog between science and Buddhism . [ edit ] Life and career Varela was born in 1946 in Santiago in Chile, the son of Corina María Elena García-Tapia and Raúl Andrés Varela-Rodríguez. [ 1 ] After completing secondary school at the Liceo Aleman del Verbo Divino in Santiago (1951–1963).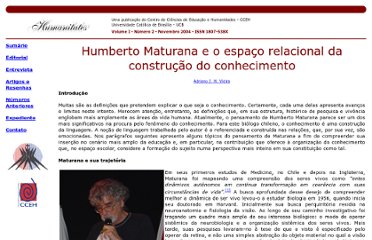 Humberto Maturana e o espaço relacional da construção do conhecimento Adriano J. H.
Autopoiesis (from Greek αὐτo- (auto-) , meaning "self", and ποίησις (poiesis) , meaning "creation, production") literally means "self-creation" and expresses a fundamental dialectic among structure , mechanism and function . The term was introduced in 1972 by Chilean biologists Humberto Maturana and Francisco Varela : An autopoietic machine is a machine organized (defined as a unity) as a network of processes of production (transformation and destruction) of components which: (i) through their interactions and transformations continuously regenerate and realize the network of processes (relations) that produced them; and (ii) constitute it (the machine) as a concrete unity in space in which they (the components) exist by specifying the topological domain of its realization as such a network. [ 1 ] [...] the space defined by an autopoietic system is self-contained and cannot be described by using dimensions that define another space.