Freethought
Reasonable Faith: question_16_Slaughter_of_the_Canaanites
According to the Pentateuch (the first five books of the Old Testament), when God called forth his people out of slavery in Egypt and back to the land of their forefathers, he directed them to kill all the Canaanite clans who were living in the land (Deut. 7.1-2; 20.16-18). The destruction was to be complete: every man, woman, and child was to be killed. The book of Joshua tells the story of Israel's carrying out God's command in city after city throughout Canaan. These stories offend our moral sensibilities. Ironically, however, our moral sensibilities in the West have been largely, and for many people unconsciously, shaped by our Judaeo-Christian heritage, which has taught us the intrinsic value of human beings, the importance of dealing justly rather than capriciously, and the necessity of the punishment's fitting the crime. The Bible itself inculcates the values which these stories seem to violate.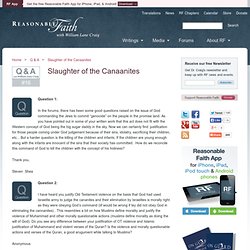 When the contemporary secular movement is compared to the gay rights movement, objections are sometimes raised by those who distinguish between the two on biological grounds. Whereas sexual orientation is not a choice, the argument goes, one's religious outlook is. The great weight of science indicates that the first part of that argument is correct (i.e., one's sexual orientation is determined by biology), but the latter part is somewhat misleading and merits scrutiny. After all, though we can choose our religious affiliation, none of us can ultimately choose what we truly believe or don't believe.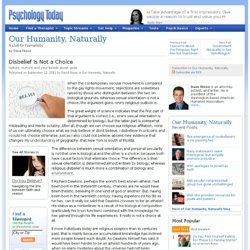 Disbelief Is Not a Choice
I have been really geeking it out for the last little bit, well a little more than usual. First off, my HTPC fried. I was able to isolate it to the power supply, but the power supply is highly specific to that case and considering it's almost three and a half years old I wasn't surprised to find that it's not available. I had another system that I have used for a HTPC on occasion, but last I used it, it was having problems, but I hadn't gotten around to finding the cause.
dwnomad
Greta Christina is in town to give a talk for one night only! Don't miss this this opportunity to hear one of the most widely-read and well-respected bloggers in the atheist blogosphere. She is author of the new book "Coming Out Atheist: How to Do It, How to Help Each Other, and Why," and of "Why Are You Atheists So Angry?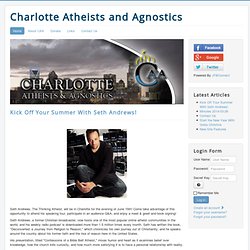 Charlotte Atheists and Agnostics
Top 10 Tips For Reaching Out To Atheists | Camels With Hammers