Legal Actions
Facebook Addiction Leads To Ten Years In Prison For Arizona Man. Facebook Like Can Get You Fired, Says Judge. Your First Amendment rights are probably the last thing you think about when you click the Like button on Facebook.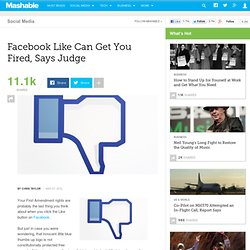 But just in case you were wondering, that innocent little blue thumbs-up logo is not constitutionally protected free speech. At least, not according to a district court judge in Virginia, who was the first to decide such a question in federal court. The case before Judge Raymond Jackson was this: a local sheriff had fired six of his employees, some because their actions "hindered the harmony and efficiency of the office," according to the New York Times. One of those employees, it turned out, had clicked the Like button on the page of the sheriff's political opponent. That may sound like a firing offense. Facebook Will Pay $10 Million To Make Its 'Sponsored Stories' Problem Go Away.
State Law Requires Sex Offenders to List Status on Facebook. Louisiana has enacted a new law requiring sex offenders and child predators to disclose their criminal status on their Facebook and other social networking profiles.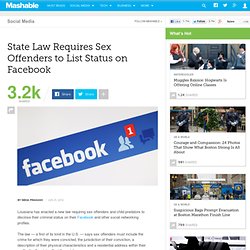 The law — a first of its kind in the U.S. — says sex offenders must include the crime for which they were convicted, the jurisdiction of their conviction, a description of their physical characteristics and a residential address within their profile. It will go into effect August 1. Facebook already refuses to let registered sex offenders create profiles, according to its Statement of Rights and Responsibilities. But this new law, according to State Rep. Judge Dislikes Facebook's 'Sponsored Stories' Settlement. STUDY: Bullies Outnumber Victims 4:1 On Facebook. Only about half of all parents are aware of cyberbullying incidents involving their children, in part because more kids are accessing Facebook using chat applications and cell phones away from their family.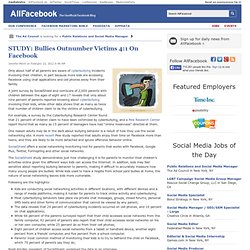 A joint survey by SocialShield and comScore of 2,000 parents with children between the ages of eight and 17 reveals that only about nine percent of parents reported knowing about cyberbullying involving their kids, while other data shows that as many as twice that number of children claim to be the victims of cyberbullying. For example, a survey by the Cyberbullying Research Center found that 21 percent of children claim to have been victimized by cyberbullying, and a Pew Research Center report found that as many as 15 percent of teenagers have had "online meanness" directed at them. One reason adults may be in the dark about bullying behavior is a result of how they use the social networking site. Facebook Murder-For-Hire Plot Lands Two People in Prison. A murder-for-hire plot that started with a Facebook message resulted in a prison sentence for Ohio residents Christine Metter and her 77-year-old father.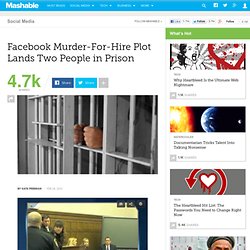 Metter stared at the courtroom floor on Thursday when a judge sentenced her to 10 years in prison for attempting to hire a man on Facebook to kill her ex-husband. Metter, 41, of Ohio and her father Al Zombory, 77, were convicted of conspiracy to commit aggravated murder in January. Zombory was sentenced to nine years in prison on Tuesday. It all started with a conversation Metter had on Facebook with a friend from high school. Metter complained about her ex-husband to the friend, saying he had custody of her oldest daughter and planned to fight for custody of the other three children. Facebook Denies Looking At Your Text Messages. Facebook denied a report Monday from the UK's Sunday Times that the company is reading text messages sent by users that have installed its popular app on their mobile phones.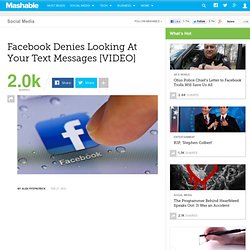 "The Sunday Times has done some creative conspiracy theorizing but the suggestion that we're secretly reading people's texts is ridiculous," said Iian Mackenzie, Facebook's head of European communications in a post entitled "Today's Bad Journalism. " An earlier report in the Sunday Times suggested that Facebook was ogling users' private texts based on the Facebook for Android app's permissions.
Yahoo threatens Facebook as patent war looms. Apr Wei-Yin Chen starts strong, offense wakes up in Orioles' 7-1 win over Rays In the eyes of Orioles manager Buck Showalter, left-hander Wei-Yin Chen battled some tough luck in his first two starts of the season.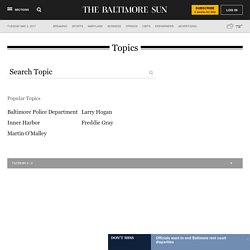 He pitched well enough to win, his skipper said, but was victimized by seeing-eye hits that led to some early exits.... searching... Patent Wars: Yahoo Claims Facebook Is Infringing. Yahoo, desperately in need of new revenue models, has hit upon the patent litigation stratgy and is now alleging that deep-pocketed Facebook is infringing 10-20 Yahoo patents including things that cover "the technical mechanisms in the Facebook's ads, privacy controls, news feed and messaging service.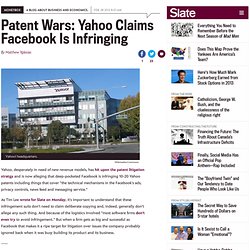 " As Tim Lee wrote for Slate on Monday, it's important to understand that these infringement suits don't need to claim deliberate copying and, indeed, generally don't allege any such thing. And because of the logistics involved "most software firms don't even try to avoid infringement. " But when a firm gets as big and successful as Facebook that makes it a ripe target for litigation over issues the company probably ignored back when it was busy building its product and its business.
Did Yahoo! Tip The Press To Force Facebook's Hand In Patent Dispute? Yahoo is playing the press while trying to force Facebook into licensing between 10 and 20 of its patents.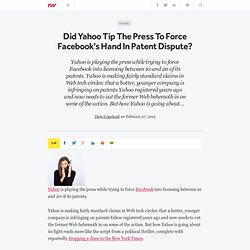 Yahoo is making fairly standard claims in Web tech circles: that a hotter, younger company is infringing on patents Yahoo registered years ago and now needs to cut the former Web behemoth in on some of the action. But how Yahoo is going about its fight reads more like the script from a political thriller, complete with reportedly dropping a dime to the New York Times. "Yahoo contacted us the same time they called The New York Times and so we haven't had the opportunity to fully evaluate their claims," Barry Schnitt, a spokesman for Facebook, said in a statement to the newspaper in other media outlets. Yahoo To Facebook: Pay Up for Your Patents. Yahoo wants Facebook to start paying for its right to use various Internet technologies that Yahoo says it holds patents for.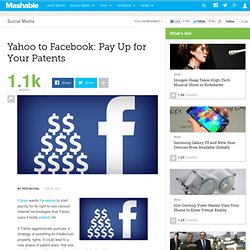 If Yahoo aggressively pursues a strategy of asserting its intellectual-property rights, it could lead to a new phase of patent wars, this one involving some of the biggest names in social networking. In a statement first reported by The New York Times, Yahoo told Mashable it "has a responsibility to its shareholders, employees and other stakeholders to protect its intellectual property.
" "We have invested substantial resources into these innovations," the statement continued. "We must insist that Facebook either enter into a licensing agreement or we will be compelled to move forward unilaterally to protect our rights." Hollywood Pressures D.C. Lobbyists To Cut Ties With Facebook. Three of the four Washington, D.C. lobbying firms Facebook had hired abruptly terminated their contracts with the social networking giant.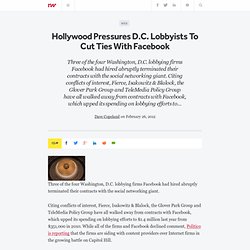 Citing conflicts of interest, Fierce, Isakowitz & Blalock, the Glover Park Group and TeleMedia Policy Group have all walked away from contracts with Facebook, which upped its spending on lobbying efforts to $1.4 million last year from $351,000 in 2010. While all of the firms and Facebook declined comment, Politico is reporting that the firms are siding with content providers over Internet firms in the growing battle on Capitol Hill. Student who Hacked into Facebook Employee Account Gets Jail Time. A 26-year-old software development student will spend eight months in jail for hacking Facebook, which his judge said could have been "utterly disastrous" for the company.
Glenn Mangham hacked a Facebook employee's account last spring from his parents' home in Britain. He gained access to valuable intellectual property, although he didn't sell the information. You Can't Sue Family Over Unwanted Facebook Photos, Says Judge. Whether we look too young, too old or too inebriated, we've all been there — tagged in unflattering Facebook photos. But if you're thinking of filing a lawsuit about it, think again. Uploading an unflattering photo is not grounds for a harassment suit, a Minnesota district court has ruled.
Judge Strikes Down Law Banning Sexual Offenders from Facebook - Law Blog. Facebook Wins Three-Year-Old Suit Against Power.com. In yet another example of our speedy justice system, Facebook was declared the winner of a lawsuit originally filed in December 2008 against Power Ventures and Power.com, which accessed and stored users' login information without permission. Bloomberg reported that U.S. District Judge James Ware ruled in favor of the social network, and the next step will be a hearing on damages. Meanwhile, time has not been kind to Cayman Islands-based Power Ventures, as Bloomberg reported that Power.com is on the block. Juror Jailed For 'Friending' Defendant on Facebook. Word to the wise: If you're a juror in a trial, don't friend the defendant on Facebook, or worse, brag about being kicked off the jury committee for said friend request. Jacob Jock, a 29-year-old man living in Sarasota, Florida, was sentenced to three days in jail on Thursday for criminal contempt of court by Circuit Judge Nancy Donnellan.
The misdemeanor charge stemmed from a message he posted on his Facebook page after being dismissed from jury duty for sending a friend request to the defendant: "Score ... Facebook Takes the Fight Against Clickjacking to the Courts. Facebook is turning to the courts to fight the "clickjacking" scourge which sometimes plagues the social networking site. The news comes as rumors are circulating that Facebook's initial public offering (IPO) could be happening as early as this week, with a possible offering of up to $10 billion in shares.
If you've ever clicked on a Facebook link only to have that same link get instantly (and seemingly magically) sent out to your entire network of friends without your approval, you have been clickjacked. Facebook Spent More than $1 Million on Lobbying in 2011 [REPORT] Some Scolding, No Fines For Facebook After Irish Privacy Investigation. Privacy Lawsuit Over Facebook Like Ads Can Proceed. Facebook Goes After IsAnyoneUp, A Porn Site That Features Its Users' Profiles. Anonymous to Shut Down Facebook On Nov. 5 or Maybe Not. Anonymous Targets Facebook For A January 28 Attack.
---