Interviewing
Is the interview going well? By Ramit Sethi We are terrible at interviewing. We walk into the interview room without preparing. We spend time worrying about "trick questions" and about what shirt we should wear, instead of the things that really matter.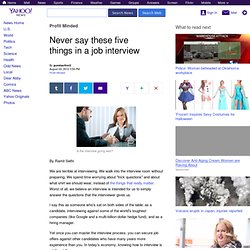 Never say these five things in a job interview | Profit Minded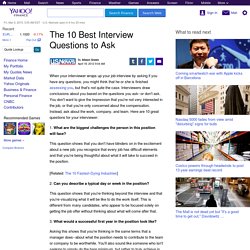 When your interviewer wraps up your job interview by asking if you have any questions, you might think that he or she is finished assessing you, but that's not quite the case. Interviewers draw conclusions about you based on the questions you ask--or don't ask.
Nine Things Never to Say in a Job Interview - Monster.com
When you're searching for a job, landing an interview can feel like a huge success -- and it is, but for most open positions, the interview is only one step in a long hiring process. For some jobs, dozens of people may be interviewed, and the competition will be fierce.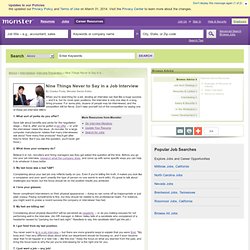 Even the smartest and most qualified job seekers need to prepare for job interviews.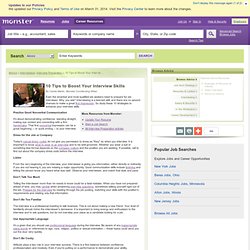 10 Tips to Boost Your Interview Skills - Monster.com
the Usual. And when I say usual, I mean NOTHING you shouldn't ALREADY know. by pattychanman Feb 1
10 Ways to Ruin a Job Interview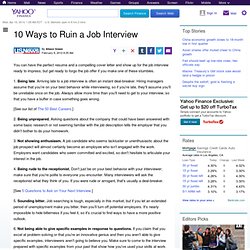 You can have the perfect resume and a compelling cover letter and show up for the job interview ready to impress, but get ready to forgo the job offer if you make one of these stumbles. 1. Being late.
How to Land a New Job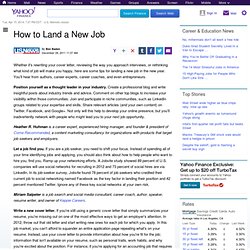 Whether it's rewriting your cover letter, reviewing the way you approach interviews, or rethinking what kind of job will make you happy, here are some tips for landing a new job in the new year. You'll hear from authors, career experts, career coaches, and even entrepreneurs. Position yourself as a thought leader in your industry.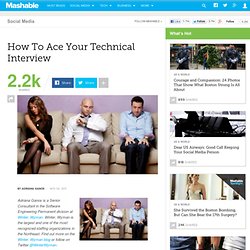 How To Ace Your Technical Interview
Adriana Ganos is a Senior Consultant in the Software Engineering Permanent division at Winter, Wyman.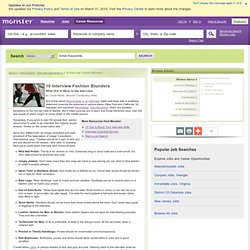 10 Interview Fashion Blunders - Monster.com
Any article about what to wear to an interview might well begin with a qualifying statement covering the extremes in various states (New York and California, for example) and industries (technology, manufacturing), which are possible exceptions to the normal rules of fashion. But it might surprise you to learn that those extremes have, over the last couple of years, begun to move closer to the middle ground.