FTC Settlement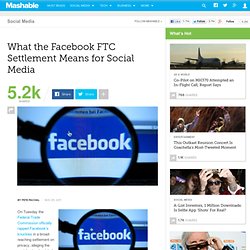 What the Facebook FTC Settlement Means for Social Media
On Tuesday the Federal Trade Commission officially rapped Facebook's knuckles in a broad-reaching settlement on privacy, alleging the social network misled its users on what they were sharing and with whom. The settlement, which lays out a number of specific rules the service must now abide by, requires Facebook to be much more transparent about its privacy practices going forward. The thing is, Facebook was already doing that. Sure, the requirement that the company must now submit itself to biannual review from a third-party oversight board for the next 20 years sounds heavy, but it's really not.
This article is very benign compared with Dan Lyons, writing for TDB by pattychanman Dec 3
"The effects of the settlement will likely have more to do with other social networks than the original one. The message from the FTC to social media is now clear: if you put the desires of advertisers before the privacy of users, you will be stopped. Just because you're sitting on a ton of personal information that would make marketers drool, it doesn't mean you can monetize it in any way you like." by pattychanman Dec 3
Our Commitment to the Facebook Community
Harry Campbell Facebook is in a corner. Another Internet hot shot, Groupon, is trading below its offering price, and the market for Internet initial public offerings over all appears to be deflating. The European sovereign debt crisis isn't helping the market gloom. The coming months are shaping up to be a bad time to undertake an I.P.O. Still, Facebook will almost certainly have to go public during this time whether it wants to or not — and whether or not it can get a valuation of $100 billion or more in doing so.
Facebook May Be Forced to Go Public Amid Market Gloom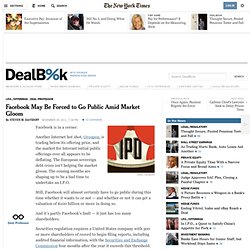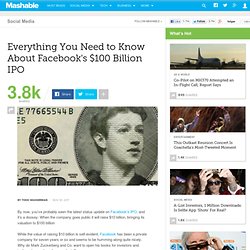 Everything You Need to Know About Facebook's $100B IPO
By now, you've probably seen the latest status update on Facebook's IPO, and it's a doosey: When the company goes public it will raise $10 billion, bringing its valuation to $100 billion While the value of raising $10 billion is self-evident, Facebook has been a private company for seven years or so and seems to be humming along quite nicely. Why do Mark Zuckerberg and Co. want to open his books for investors and invite rude questions from analysts? We tackled that question and more below, which is designed to be a primer for that most-anticipated of all social media IPOs.
Three Reasons Why Startups Should Care About the Facebook IPO
Good reasons. The idea of "Pay Pall Mafia" is a great incentive for anyone looking to start a tech company of their own. by pattychanman Nov 30
Leaders: Poking goes public
The Truth About Facebook Privacy—if Zuckerberg Got Real
Introducing "The Stacks" As we enjoy the current wave of expansive non-fiction writing—call it longform, takeouts, bonus pieces, what's in a name?—now is a fine time to revive stories that have been lost to us. Stories that are tucked away from our consciousness simply because they don't exist online, not because they don't hold up as pieces of writing. I've been reprinting choice material on my blog Bronx Banter for five years now and I'm not alone in my thirst for the classics of the form.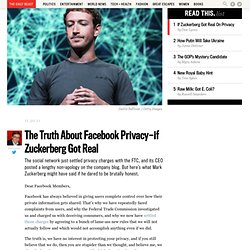 How Facebook Screwed With Everyone's Privacy And What It's Doing About It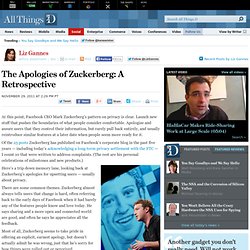 The Apologies of Zuckerberg: A Restrospective - Liz Gannes - Social
At this point, Facebook CEO Mark Zuckerberg's pattern on privacy is clear. Launch new stuff that pushes the boundaries of what people consider comfortable. Apologize and assure users that they control their information, but rarely pull back entirely, and usually reintroduce similar features at a later date when people seem more ready for it. Of the 25 posts Zuckerberg has published on Facebook's corporate blog in the past five years — including today's acknowledging a long-term privacy settlement with the FTC — I count 10 that were written to address complaints.
A clear report on the bullshit Zuckerberg spouts :) by pattychanman Nov 30