Blogging (News and Tips)
The Basics of Blogging and Online Publishing
Is Writing About Books Bad for Reading Books?
This blog is called "Technology and Learning" - but maybe the word "Books" should also appear in the title. I write about books because I live so much in my head, and the books that I read form the mental scaffolding of my life. Some people learn by doing, I learn by reading (and writing). And I want to hang out with other readers. I want to know what other people who live their lives at the intersection of education and technology are reading. I want to read the same books as you, and spend time talking about what we are reading together.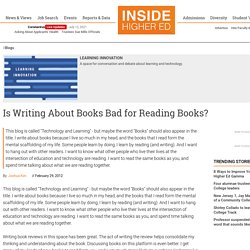 Liz Borod Wright, a freelance writer based in New York City, runs the popular travel blog, Travelogged. She is also a social media consultant and an adjunct for social media at Columbia Journalism School's continuing education program. When it comes to building an audience and driving traffic, bloggers are turning to social media with record results. Instead of relying on organic search or (gasp) IRL friends, successful bloggers know they have to develop a following on key social networks as a way to promote their brands and ultimately get more clicks.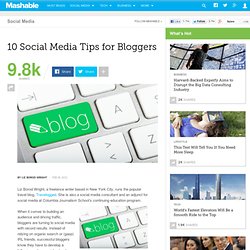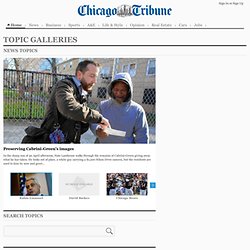 $90 million to U. of C. meant to 'alter the course of cancer' Cancer researchers at the University of Chicago will get a substantial boost Monday, when an international nonprofit plans to announce that the university and five other leading institutions will each receive $90 million to advance new treatments aimed at... Odds and ends: Crabtree's healthy return lifts 49ers The San Francisco 49ers downed the Green Bay Packers 23-20 on Sunday evening on a last-second 33-yard field goal by Phil Dawson. The victory ends the Packers' season and sends the 49ers onto Carolina now to face the Panthers in the divisional... Defense: Overhaul could include switching to 3-4
Tech blogger must give information on his informant by pattychanman Jan 14