Sides
Chicken and Sausage Jambalaya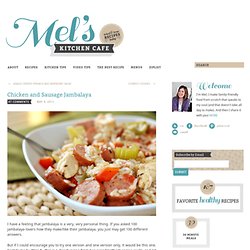 I have a feeling that jambalaya is a very, very personal thing. If you asked 100 jambalaya-lovers how they make/like their jambalaya, you just may get 100 different answers. But if I could encourage you to try one version and one version only, it would be this one. Sent to me by Bliss P., this is a direct recipe from her grandmother's recipe cards, and let me tell you, there is no wonder it has been handed down from generation to generation. Not having ever made jambalaya myself (shocking, I know!)
Garlic Mashed Potatoes We have all had it one time or another-those nasty gooey, thick as paste, mashed potatoes. Or how about those bland and watery mashed potatoes? You followed the recipe exactly and it still turned into a mess? So what happened?
Garlic Mashed Potatoes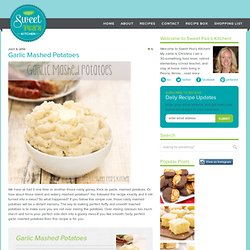 Horseradish & Dill Cream Cheese Mashed Potatoes
I too love this bbq sauce but have added my own twists. I only had salted butter so I omitted the salt, then melted the butter and skimmed the butter fats before adding the onions and garlic, so it was essentially clarified butter. I also like a nice cherry flavor so I used a mix of half dr pepper half black cherry soda, but I bet cherry dr pepper would also do the trick. I also didn't have the ancho chili powders, but I did have some scotch bonnet sauce which I used about a teaspoon.
Dr. Pepper Barbecue Sauce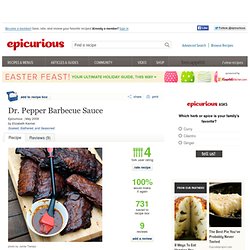 Spanish Rice
Spanish rice, Mexican rice, whatever you call it, I call it delicious! This Spanish rice is the perfect side dish for Salsa Chicken, Chicken Fajitas, Chipotle Bean Burritos or your favorite Mexican dish. This colorful rice dish is sautéed with onion, green bell pepper and garlic and then simmered with chicken broth, diced tomatoes and spices. This rice tastes very similar to the one served at my favorite local Mexican restaurant.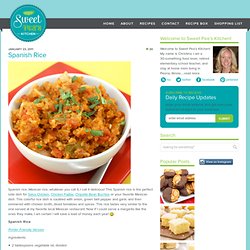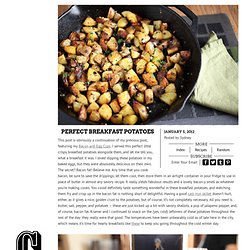 This post is obviously a continuation of my previous post, featuring my Bacon and Egg Cups. I served this perfect little crispy breakfast potatoes alongside them, and let me tell you, what a breakfast it was. I loved dipping these potatoes in my baked eggs, but they were absolutely delicious on their own. The secret? Bacon fat!
Breakfast Potatoes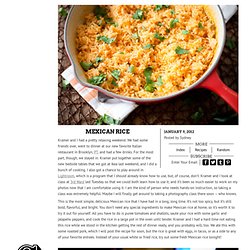 Mexican Rice
Kramer and I had a pretty relaxing weekend. We had some friends over, went to dinner at our new favorite Italian restaurant in Brooklyn, PT, and had a few drinks. For the most part, though, we stayed in. Kramer put together some of the new bedside tables that we got at Ikea last weekend, and I did a bunch of cooking. I also got a chance to play around in Lightroom, which is a program that I should already know how to use, but, of course, don't. Kramer and I took at class at 3rd Ward last Tuesday so that we could both learn how to use it, and it's been so much easier to work on my photos now that I am comfortable using it.
Why there is no need to purchase pre-made fries in the freezer aisle – in pictures and rhyme: One potato (find a potato) Two potato (cut the ends off)