Arts
Amateur d?art - Blog LeMonde.fr. Cadmus Paul. Paul Cadmus et Jared French PaJaMa En 1926, au College Amherst, Jared French (1905-1988) fait la connaissance du peintre Paul Cadmus, qui a été brièvement son amant et qui est devenu un ami de toujours.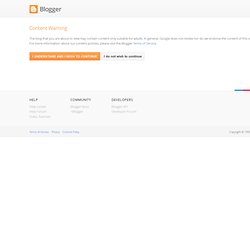 Après avoir quitté Amherst, Jared French occupa un emploi à Wall Street, puis fit le tour de l'Europe avec Cadmus entre 1931 et 1933. Pendant les années 1930 et 1940, il fut un membre du cercle de Cadmus qui comprenait des figures littéraires et artistiques gay telles que George Platt Lynes, Lincoln Kirstein, George Tooker, Glenway Wescott, et Monroe Wheeler. Paul Cadmus - Beauty's all Things B. Cadmus, to our enormous benefit, understands that beauty is bodies, brains, buttocks, bathtubs, bicycles, Bach, bravado and bad behaviour; beauty's all things B.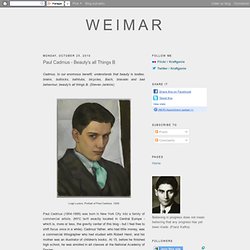 (Steven Jenkins) Luigi Lucioni, Portrait of Paul Cadmus, 1928 Paul Cadmus (1904-1999) was born in New York City into a family of commercial artists. Arts >> Cadmus, Paul. American painter Paul Cadmus is best known for the satiric innocence of his frequently censored paintings of burly men in skin-tight clothes and curvaceous women in provocative poses, but he also created works that celebrate same-sex domesticity.
Born in New York City on December 17, 1904 into a family of commercial artists, Cadmus studied at the National Academy of Design and the Arts Students League. He lived in Europe from 1931 to 1933, where he traveled with artist Jared French and where he produced his first mature canvases. Roger Chomeaux, dit "Chomo"
Cromo | Rouillac. Pour aller plus loin À Découvrir : Le site internet consacré à l'artiste par ses amis et sa famille, avec de nombreuses vidéos et enregistrement sonores inédits mettant en scène l'ermite de Fontainebleau.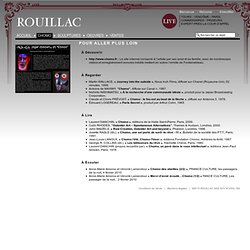 À Regarder Martin WALLACE, « Journey into the outside », Nova Inch Films, diffusé sur Chanel (Royaume-Uni), 52 minutes, 1999.Antoine de MAXIMY, "Chomo", diffuse sur Canal +, 1987.Nohirito NISHIMATSU, « À la recherche d'une communauté idéale », produit pour la Japan Broadcasting Corporation,Claude et Clovis PRÉVOST, « Chomo : le fou est au bout de la flèche », diffusé sur Antenne 2, 1978.Édouard LOGEREAU, « Paris Secret », produit par Arthur Cohn, 1965. Chaîne de geiss48. HALLE SAINT PIERRE - Accueil. Animula vagula. Les Excentriques - Arthur Cravan Georges Darien Albert Paraz Jacques Rigaut Baron Corvo Oscar Wilde... Le Poignard Subtil. In girum imus nocte et consumimur igni.
---