Every
Listen to jazz and rain sounds - JazzAndRain.com
Krakowskie ścieżki smaku
nieco inny
Odwrócone graffiti Napisane przez zielonysmokk w ART Tess Jakubec, to artystka mieszkająca i studiująca w Vancouver w Kanadzie.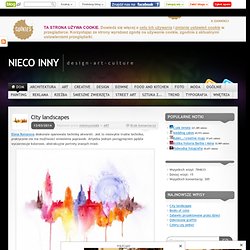 DECLARATION OF ROMANTIC INTENT To reveal the extent of one's attraction. UNSOLICITED FEEDBACK To express an opinion or insight. OBSERVANCE OF HOLIDAY To celebrate an annual event. AIRING OF GRIEVANCE To communicate a problem or issue. FORMAL APOLOGY To express remorse (heartfelt or forced).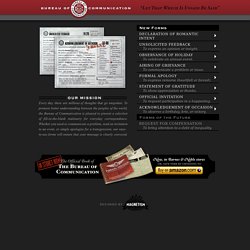 Każdy orzeł, którego kiedykolwiek widziałem na herbie/logo/znaku/emblemacie miał łeb skierowany w lewo lub w prawo. Zawsze prezentował się profilowo. Dzisiaj po raz pierwszy zobaczyłem logo z orłem na wprost (en face). Wydaje mi się to dziwne.
Mroczne Kalesony Adam'a Fidusiewicz'a. Oficjalny blog.
TAKE ME
HUH.
Video: Slow-Motion Footage of Train Passengers 15 minutes ago · film · 0 Comments · 129 Views Adam Magyar has created a pretty mesmerising series of short black-and-white videos featuring slow-motion footage of waiting passenger's as trains pull into stations. Filmed in Tokyo (Shinjuku station), New York (Grand Central... Original Nike Waffle Prototype Sells for $1,500 1 hour ago · culture · 0 Comments · 248 Views An original prototype of the famous Nike Waffle shoe, which co-founder Bill Bowerman developed in the early 1970s using his wife's waffle iron, has been auctioned for $1,500 USD. The shoe was purchased by Jordan Geller, who owns... 3D Print A House in 24 Hours 1 hour ago · tech · 0 Comments · 389 Views Professor Behrokh Khoshnevis from the University of Southern California claims to have developed a giant new 3D printer which would be able to create a 2,500 square-foot house in just 24 hours.