Computers Devices
Backup
Scanners. Uncrate | The Best Gear For Guys. Roku Streaming Player | Watch Netflix, Hulu Plus, Amazon Instant Video, Crackle and More on Roku Player. Lindsay's Printer. Software. Downloading. WorkEZ Series - WorkEZ. Duplicates. 10+ Best Google Chrome Apps to get you organized. Guys do you wanna increase your productivity both online and offline?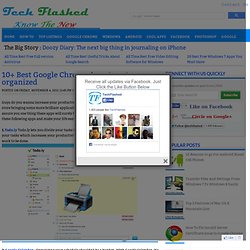 Here is google store bringing some more brilliant applications every day to help us get more organised.I can assure you one thing these apps will surely help you in getting organised . Have a quick look at these following apps and make your life easy: 1.Todo.ly Todo.ly lets you divide your tasks into sub tasks and gives you an option to prioritise your tasks which increases your productivity.
This app comes with filters to set your priority work to be done. 3.Quick Note Quick note helps you to make a quick note of anything which will remind you doing day to day things.
---