Religion
Kinder verhalten sich von sich aus sozial. Eine Vorstellung, die uns fremd ist. Durch Erziehung wird das natürliche Sozialverhalten untergraben.
Lob und Tadel – die Selbstvertrauen zerstörende Kraft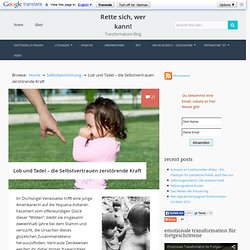 Samsara Official Trailer #2 (2012) International Movie HD
BuddhaQuote
By Your Grace ~ Jai Gurudev
Conglomeration of Interesting Sites
Obama's Theologian: David Brooks and E.J. Dionne on Reinhold Niebuhr and the American Present [Speaking of Faith® from American Public Media]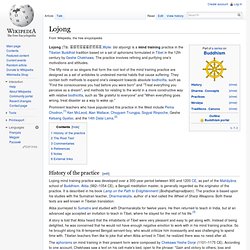 Lojong (Tib. བློ་སྦྱོང་,Wylie: blo sbyong) is a mind training practice in the Tibetan Buddhist tradition based on a set of aphorisms formulated in Tibet in the 12th century by Geshe Chekhawa. The practice involves refining and purifying one's motivations and attitudes.
Meister Eckhart
"When I came out from God, that is, into multiplicity, then all proclaimed, 'There is a God' (i.e., the personal God, Creator of all things). Now this cannot make me blessed, for hereby I realize myself as creature.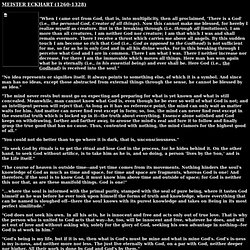 Door in Tibet with Bon religious symbolism. Bon or Bön[1] (Tibetan: བོན་, Wylie: bon [pʰø̃̀(n)]), also Bonism or Benism (Chinese: 苯教, Běnjiào), is the indigenous religion of Tibet, pre-dating the introduction of Buddhism. It influenced Tibetan Buddhism and is still practiced as a minority religion. The scholarly history of Bon is difficult to clearly ascertain because the earliest surviving documents referring to the religion come from the 9th and 10th centuries, well after Buddhists began the suppression of indigenous beliefs and practices.[2] Moreover, historian Per Kværne[2] notes that "Bon" is used to describe three distinct traditions:
Bön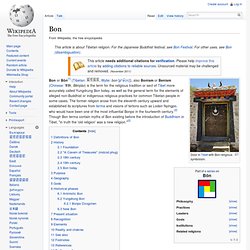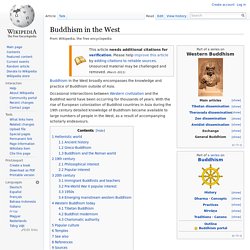 Buddhism in the West
Buddhism in the West broadly encompasses the knowledge and practice of Buddhism outside of Asia. Occasional intersections between Western civilization and the Buddhist world have been occurring for thousands of years. With the rise of European colonization of Buddhist countries in Asia during the 19th century detailed knowledge of Buddhism became available to large numbers of people in the West, as a result of accompanying scholarly endeavours.
The Coptic language text, the second of seven contained in what modern-day scholars have designated as Codex II, is composed of 114 sayings attributed to Jesus.[2] Almost half of these sayings resemble those found in the Canonical Gospels, while it is speculated that the other sayings were added from Gnostic tradition.[3] Its place of origin may have been Syria, where Thomasine traditions were strong.[4]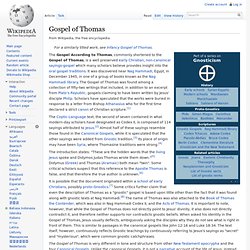 Gospel of Thomas
J. Krishnamurti Online, the official repository of the authentic teachings of J. Krishnamurti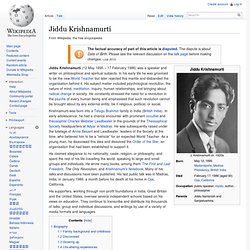 Jiddu Krishnamurti (May 12, 1895 – February 17, 1986) was a speaker and writer on philosophical and spiritual subjects. In his early life he was groomed to be the new World Teacher but later rejected this mantle and disbanded the organisation behind it.
J. Krishnamurti Online, the official repository of the authentic teachings of J. Krishnamurti
Nisargadatta Maharaj /ˌnɪsərɡəˈdɑːtə ˌmæhəˈrɑːdʒ/ (April 17, 1897 – September 8, 1981), born Maruti Shivrampant Kambli, was an Indian spiritual teacher and philosopher of Advaita (Nondualism), and a Guru, belonging to the Inchgiri branch of the Navnath Sampradaya.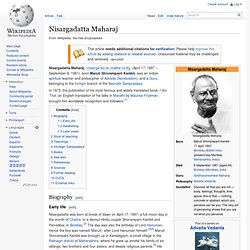 Nisargadatta Maharaj