Réflexions et grain à moudre
What Are the Economics of the Creative Economy?The Graduate Center, CUNY New York City December 2, 2013 Graduate Center geographer David Harvey, author of Rebel Cities; Harvard economist Edward Glaeser, author of Triumph of the City; and Seth W. Pinsky, former president of the NYC Economic Development Corporation, debate the economic realities of New York's creative and knowledge-based industries.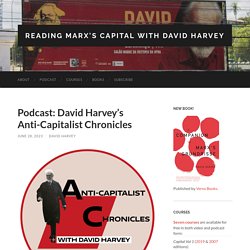 Reading Marx's Capital Volume I with David Harvey A close reading of the text of Karl Marx's Capital Volume I in 13 video lectures by Professor David Harvey. Links to the complete course:
Jean-Marie Harribey
Que faire du SMIC ? C'est la nouvelle question du « changement maintenant » de Jean-Marie Harribey, le 12 avril 2014 L'heure n'est plus à « mon ennemi, c'est la finance », parce que le nouvel ennemi est le SMIC.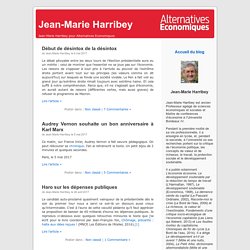 Professeur agrégé de sciences économiques et sociales, Maître de Conférences en sciences économiques à l' Université Montesquieu-Bordeaux IV , Groupe de Recherche en Economie Théorique et Appliquée (GRETHA, UMR CNRS 5113) Docteur habilité à diriger des recherches en sciences économiques Membre du conseil scientifique d' ATTAC Ancien président d' ATTAC de 2006 à 2009 Membre de la Fondation Copernic