Objectivety in Journalism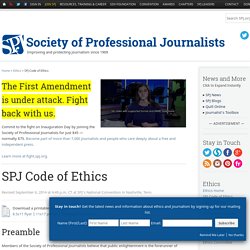 SPJ Code of Ethics Download a printable copy [PDF] Preamble Members of the Society of Professional Journalists believe that public enlightenment is the forerunner of justice and the foundation of democracy. The duty of the journalist is to further those ends by seeking truth and providing a fair and comprehensive account of events and issues.
Confirmation Bias in Conservative "Journalism"
Is Ethical Journalism Simply Objective Reporting?
Journalists Discuss Media Bias Admissions of Liberal Bias | Denials of Liberal Bias Admissions of Liberal Bias Radio host Hugh Hewitt: "And so everyone that you work with, or 95 percent of people you work with, are old liberals."
Media Bias Basics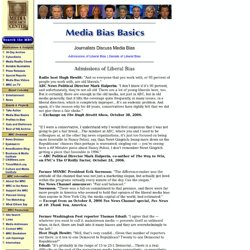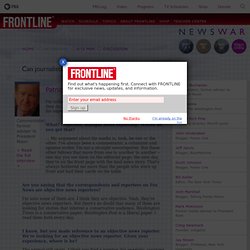 Commentator; former adviser to President Nixon Patrick Buchanan I'm talking about conservative commentators. But sure they do.
Interviews - Can Journalists Be Truly Objective? | News War | FRONTLINE
You hear it all the time – reporters should be objective and fair. Some news organizations even use these terms in their slogans, claimed that they are more "fair and balanced" than their competitors. But what is objectivity, and what does it mean to be fair and balanced? Objectivity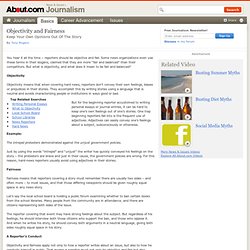 Bias Or Balance? Media Wrestle With Faltering Trust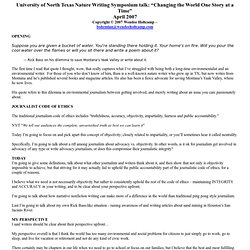 University of North Texas Nature Writing Symposium talk: "Changing the World One Story at a Time" April 2007 Copyright © 2007 Wendee Holtcamp – bohemian@wendeeholtcamp.com
In response to the rapidly changing media environment, many schools and academic programs are offering novel approaches to journalism education. This seismic change creates tensions within programs, especially when it comes to how to teach ethics for this increasingly mixed media. In an earlier column, I put forward some principles for teaching ethics amid this media revolution . But these principles do not address some specific problems. Whither objectivity? Today, students don't just learn how to report straight news on deadline.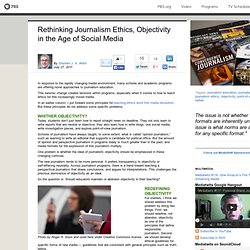 Fear of bias can weaken journalism
In 1997, an organization then administered by PEJ, the Committee of Concerned Journalists, began a national conversation among citizens and news people to identify and clarify the principles that underlie journalism. After four years of research, including 20 public forums around the country, a reading of journalism history, a national survey of journalists, and more, the group released a Statement of Shared Purpose that identified nine principles. These became the basis for The Elements of Journalism, the book by PEJ Director Tom Rosenstiel and CCJ Chairman and PEJ Senior Counselor Bill Kovach. Here are those principles, as outlined in the original Statement of Shared Purpose. A Statement of Purpose After extended examination by journalists themselves of the character of journalism at the end of the twentieth century, we offer this common understanding of what defines our work.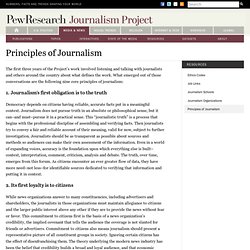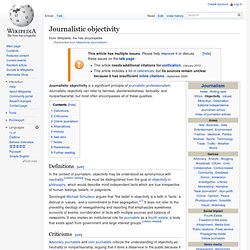 "Journalistic objectivity" redirects here. Parent article: Journalism ethics and standards Objectivity is a significant principle of journalistic professionalism . Journalistic objectivity can refer to fairness , disinterestedness , factuality , and nonpartisanship , but most often encompasses all of these qualities.
In "Losing the News: The Future of the News that Feeds Democracy," published by Oxford University Press, Alex S. Jones , a 1982 Nieman Fellow and director of the Joan Shorenstein Center on the Press, Politics and Public Policy at Harvard University, describes in its prologue his purpose and intent in writing about the "genuine crisis" in news. "It is not one of press bias, though that is how most people seem to view it," he contends. "Rather, it is a crisis of diminishing quantity and quality, of morale and sense of mission, of values and leadership." In this excerpt from the chapter "Objectivity's Last Stand," Jones reminds readers how objectivity assumed its role in the tradition of American journalism, what "authentic journalistic objectivity" looks like when practiced well, and why it matters so much to the future of news reporting.