space
Get flash to fully experience Pearltrees
A black hole is a region of spacetime from which gravity prevents anything, including light , from escaping. [ 1 ] The theory of general relativity predicts that a sufficiently compact mass will deform spacetime to form a black hole. Around a black hole there is a mathematically defined surface called an event horizon that marks the point of no return. It is called "black" because it absorbs all the light that hits the horizon, reflecting nothing, just like a perfect black body in thermodynamics . [ 2 ] [ 3 ] Quantum field theory in curved spacetime predicts that event horizons emit radiation like a black body with a finite temperature .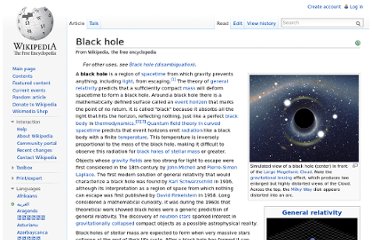 Our own galaxy consists of about 200 billion stars, with our own Sun being a fairly typical specimen. It is a fairly large spiral galaxy and it has three main components: a disk , in which the solar system resides, a central bulge at the core, and an all encompassing halo . The spiral galaxy M83 which is believed to be similar in size and shape to the Milky Way (AAO) Disk: The disk of the Milky Way has four spiral arms and it is approximately 300pc thick and 30kpc in diameter. It is made up predominantly of Population I stars which tend to be blue and are reasonably young, spanning an age range between a million and ten billion years.
The Milky Way is the galaxy that contains our Solar System . [ 11 ] [ 12 ] [ 13 ] [ nb 1 ] This name derives from its appearance as a dim "milky" glowing band arching across the night sky, in which the naked eye cannot distinguish individual stars. The term "Milky Way" is a translation of the Classical Latin via lactea , from the Hellenistic Greek γαλαξίας κύκλος (pr. galaxías kýklos , "milky circle"). [ 14 ] [ 15 ] [ 16 ] The Milky Way appears like a band because it is a disk-shaped structure being viewed from inside. The fact that this faint band of light is made up of stars was proven in 1610 when Galileo Galilei used his telescope to resolve it into individual stars. In the 1920s, observations by astronomer Edwin Hubble showed that the Milky Way is just one of many galaxies. The Milky Way is a barred spiral galaxy 100,000–120,000 light-years in diameter containing 200–400 billion stars .
There is still so little known about outer space by modern science, but of that little we do know, there are some extraordinarily amazing things. This is a list of the top 10 cool facts about Space. 10. Lightweight
Space may be the final frontier, but it is also one hell of a restaurant. Over the the past half-century, scientists and space engineers have not only been racing to get their rockets safely outside the Earth's atmosphere, they've been working to ensure the menu keeps their astronauts coming back for more. While there have been all sorts of innovations and improvements, it seems now the options are better than ever, to where we might consider studying rocket science just to gain access to NASA's kitchen. While these days it seems there is little hope in revisiting space any time soon, here are ten facts about space food, to give us food for thought as we wait until we can become weightless once more.
Space is the boundless three-dimensional extent in which objects exist and events occur and have relative position and direction. [ 1 ] Physical space is often conceived in three linear dimensions , although modern physicists usually consider it, with time , to be part of a boundless four-dimensional continuum known as spacetime . In mathematics , "spaces" are examined with different numbers of dimensions and with different underlying structures. The concept of space is considered to be of fundamental importance to an understanding of the physical universe .
Advertisement. EnchantedLearning.com is a user-supported site. As a bonus, site members have access to a banner-ad-free version of the site, with print-friendly pages.