Air
Mylostbag.com. Check my trip. Entering your reservation number You will find your reservation number on your ticket or on the confirmation provided by your agent.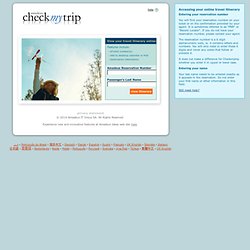 It is sometimes referred to as "PNR" or "Record Locator". If you do not have your reservation number, please contact your agent. The reservation number is a 6 digit alphanumeric code, ie. it contains letters and numbers. A-Z World Airports - Country Index. FlightStats. Met Office. Airlines banned in EU - European comm. Europe has one of the best aviation safety records in the world thanks to the effective implementation of high standards.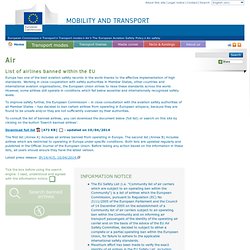 Working in close cooperation with safety authorities in Member States, other countries and international aviation organisations, the European Union strives to raise these standards across the world. However, some airlines still operate in conditions which fall below essential and internationally recognised safety levels. To improve safety further, the European Commission – in close consultation with the aviation safety authorities of all Member States – has decided to ban certain airlines from operating in European airspace, because they are found to be unsafe and/or they are not sufficiently overseen by their authorities.
Low cost EUROPE - Complete listing. Airberlin.com. Vliegwinkel. Condor. Brussels Airlines. Airports Spain. Binter Canarias. Canaryfly On-line. Vueling. Evelop Air. Amadeus Net. Sun Promotions. Airlines worldwide. Skyscanner. Explore. Hipmunk. Matrix.
---