Antivirus en ligne
Online Scanner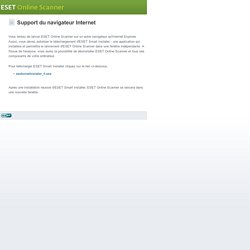 Vous tentez de lancer ESET Online Scanner sur un autre navigateur qu'Internet Explorer. Aussi, vous devez autoriser le téléchargement d'ESET Smart Installer - une application qui installera et permettra le lancement d'ESET Online Scanner dans une fenêtre indépendante. A l'issue de l'analyse, vous aurez la possibilité de désinstaller ESET Online Scanner et tous ses composants de votre ordinateur. Pour télécharger ESET Smart Installer cliquez sur le lien ci-dessous. Après une installation réussie d'ESET Smart Installer, ESET Online Scanner se lancera dans une nouvelle fenêtre.
To continue without JavaScript, click here . Please review and accept the following end-user license agreement prior to running the Symantec Security Check. Symantec is making the following software tool available to You on a complimentary basis to assist You.
Security Check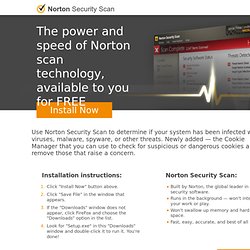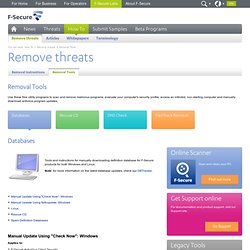 How To - Remove threats - Free Tools - Online Scanner
Scan and clean your PC F-Secure Online Scanner finds and removes harmful items from your PC. Online Scanner helps to get rid of viruses and spyware that may cause problems on your PC, and it works even if you have another security software installed on your computer. F-Secure Online Scanner is easy to use with just a couple of clicks: just download it and run it. It does not leave anything on your pc.
ANTIVIRUS GRATUIT en ligne: ActiveScan 2.0 - PANDA SECURITY
Bitdefender QuickScan uses in-the-cloud scanning technology to detect active malware on your system, in under a minute. Because it focuses on active e-threats, the product uses just a fraction of the system resources needed by a regular virus scan and requires no time-consuming virus signature updates, as the detection process is performed by remote Bitdefender servers. Key Features