Antivirus en ligne
Online Scanner. ESET ESET Online Scanner End User License and Service Agreement IMPORTANT NOTICE: Prior to download, installation, copy or use please read the below terms of the product application.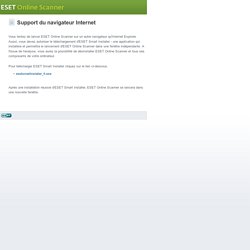 BY DOWNLOAD, INSTALLATION, COPY OR USE OF THE PRODUCT YOU EXPRESS YOUR CONSENT TO THESE TERMS AND CONDITIONS. End User License Agreement for Software Use. This agreement on software use (the "Agreement") executed by and between ESET, spol. s r. o., with its seat at Pionierska 9/A, 831 02 Bratislava, registered in the Commercial Register of the District Court Bratislava I. Security Check. Trend Micro HouseCall – Scan en ligne gratuit de virus et de programmes espions. How To - Remove threats - Free Tools - Online Scanner. Tools and instructions for manually downloading definition database for F-Secure products for both Windows and Linux.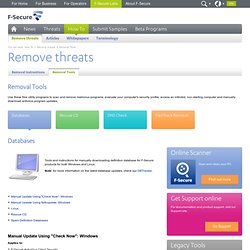 Note: for more information on the latest database updates, check our DBTracker. Manual Update Using "Check Now": Windows Applies to: F-Secure Anti-Virus Client Security F-Secure Anti-Virus for Workstations F-Secure Protection Service for Business (PSB) Workstation Security F-Secure Anti-Virus 20xx F-Secure Internet Security 20xx. ANTIVIRUS GRATUIT en ligne: ActiveScan 2.0 - PANDA SECURITY. Free Online Virus Scan - Bitdefender Online Virus Scanner. Bitdefender QuickScan uses in-the-cloud scanning technology to detect active malware on your system, in under a minute.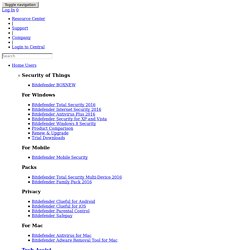 Because it focuses on active e-threats, the product uses just a fraction of the system resources needed by a regular virus scan and requires no time-consuming virus signature updates, as the detection process is performed by remote Bitdefender servers. Key Features.
---