Concepts
An Introduction to Neural Networks. Prof.
Leslie Smith Centre for Cognitive and Computational Neuroscience Department of Computing and Mathematics University of Stirling. lss@cs.stir.ac.uk last major update: 25 October 1996: minor update 22 April 1998 and 12 Sept 2001: links updated (they were out of date) 12 Sept 2001; fix to math font (thanks Sietse Brouwer) 2 April 2003 This document is a roughly HTML-ised version of a talk given at the NSYN meeting in Edinburgh, Scotland, on 28 February 1996, then updated a few times in response to comments received. Basic Concepts for Neural Networks. Contents Note: This document is an excerpt from the NeuralystTM User's Guide, Chapter 3.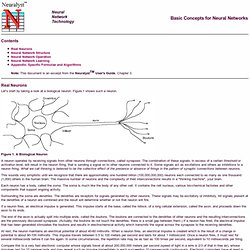 Real Neurons Let's start by taking a look at a biological neuron. Figure 1 shows such a neuron. Artificial neural network. An artificial neural network is an interconnected group of nodes, akin to the vast network of neurons in a brain.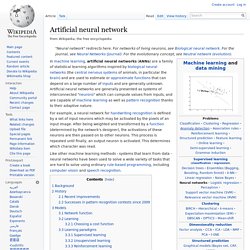 Here, each circular node represents an artificial neuron and an arrow represents a connection from the output of one neuron to the input of another. In computer science and related fields, artificial neural networks are computational models inspired by animals' central nervous systems (in particular the brain) that are capable of machine learning and pattern recognition. They are usually presented as systems of interconnected "neurons" that can compute values from inputs by feeding information through the network. For example, in a neural network for handwriting recognition, a set of input neurons may be activated by the pixels of an input image representing a letter or digit. Neural network.
---