Concepts
Prof. Leslie Smith Centre for Cognitive and Computational Neuroscience Department of Computing and Mathematics University of Stirling. lss@cs.stir.ac.uk last major update: 25 October 1996: minor update 22 April 1998 and 12 Sept 2001: links updated (they were out of date) 12 Sept 2001; fix to math font (thanks Sietse Brouwer) 2 April 2003 This document is a roughly HTML-ised version of a talk given at the NSYN meeting in Edinburgh, Scotland, on 28 February 1996, then updated a few times in response to comments received.
Basic Concepts for Neural Networks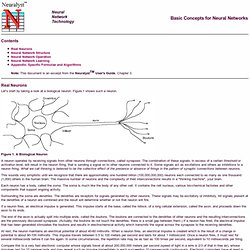 Contents Note: This document is an excerpt from the Neuralyst TM User's Guide , Chapter 3. Real Neurons Let's start by taking a look at a biological neuron. Figure 1 shows such a neuron.
An artificial neural network , often just named a neural network , is a mathematical model inspired by biological neural networks . A neural network consists of an interconnected group of artificial neurons , and it processes information using a connectionist approach to computation .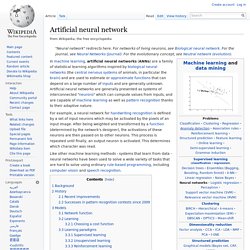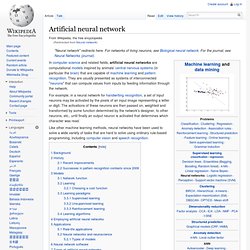 Simplified view of a feedforward artificial neural network