Other design stuff
NTLEA - NT Locale Emulator Advance NTLEAS is a Successor of NTLEA in C lang, which is a Location Emulator Written by LoveHinaAdvance with ASM lang. It supports Windows XP - 8.0/8.1, even laterOS. release: Ntleas Core.GUI Build 37 - Apr 10, 2014 Version: 1.0.0b Build: 37 Description Fix Bugs when open rar files with space in the path. Fix Bugs when open ntleasWin GUI without as administra... CS-Script for Notepad++ (C# intel...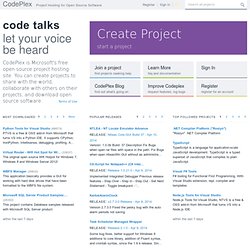 Open Source Project Hosting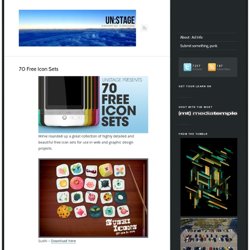 We've rounded up a great collection of highly detailed and beautiful free icon sets for use in web and graphic design projects. Sushi – Download here Playground – Download here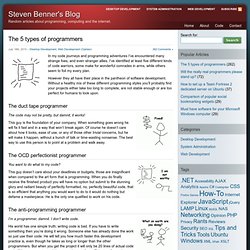 In my code journeys and programming adventures I've encountered many strange foes, and even stranger allies. I've identified at least five different kinds of code warriors, some make for wonderful comrades in arms, while others seem to foil my every plan. However they all have their place in the pantheon of software development.
Tutorial to remove objects (or people) and restore the portion of the background they hide in a photo with the Resynthesizer plugin. An impressive video has been posted on Youtube to show how, with Photoshop, it is possible to delete objects in an image automatically, without any design work. The same can be done with The Gimp in fact and for longer (it is not impossible that the same algorithm has been reused). This plugin "re-synthesizes" the background" and rebuilds it from same elements on the photo. It can thus reconstruct the sky, lawn, or even more complex views, from a sample taken from the image.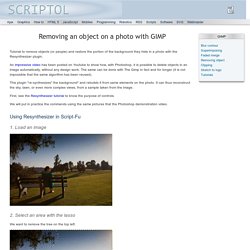 Advertisement When it comes to icons, web designers and graphic artists have an excellent opportunity to showcase their craft, prove their experience and explore their creativity. A sweet, nice icon set is a perfect showcase of designer's work and a powerful instrument to build up your reputation online.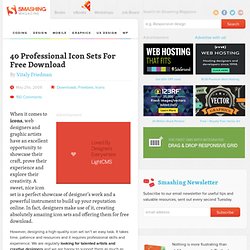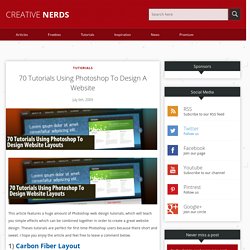 This article features a huge amount of Photoshop web design tutorials, which will teach you simple effects which can be combined together in order to create a great website design. Theses tutorials are perfect for first time Photoshop users because there short and sweet. I hope you enjoy the article and feel free to leave a comment below. 1) Carbon Fiber Layout you'll learn how to make this sleek layout with a carbon fiber background that would look great as a landing page for a website. 2) Design Studio Layout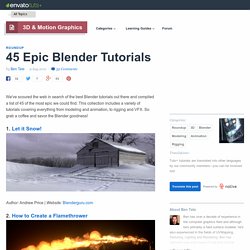 Ben has over a decade of experience in the computer graphics field and although he's primarily a hard surface modeler, he's also experienced in the fields of UVMapping, Texturing, Lighting and Rendering. Ben currently co-edits Cgtuts+ along with his brother Chris, and has authored over sixty hours of real-time tutorial content for the site, focusing mainly on 3d Studio Max and hard surface modeling. Along side 3D Studio Max, Ben's has experience with VRay, FumeFX, ZBrush, Mudbox, Mari, PTex, Photoshop, xNormal, UVLayout, Forest Pack Pro and After Effects. You can check out Ben's website to see more of his work.