Typography
The Incredible Em & Elastic Layouts with CSS
A lmost a year ago, Ty Gossman over at Stylegala asked me to write an article about elastic layouts. The best I could do was a quick email between work. I always meant to come good on that.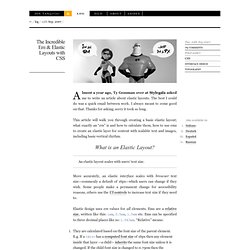 Choices, Choices, Choices [ So You Want to Create a Font — Part 1 ] T he sheer number of fonts out there ( MyFonts.com sells over fifty-five thousand) is a testament to the fact that there are nearly an infinitude of creative choices that can be made when designing a font.
So you want to create a font. Part 2
Making Geometric Type Work | Typography Commentary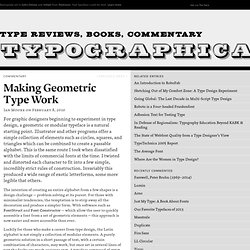 The intention of creating an entire alphabet from a few shapes is a design challenge — problem solving at its purest. For those with minimalist tendencies, the temptation is to strip away all the decoration and produce a simpler form. With software such as FontStruct and Font Constructor — which allow the user to quickly assemble a font from a set of geometric elements — this approach is now easier and more accessible than ever. Luckily for those who make a career from type design, the Latin alphabet is not simply a collection of modular elements.
Improved handling of kerning pairs and ligatures in modern browsers using the text-rendering: optimizeLegibility; declaration. The declaration is currently supported by: Safari 5 , The Webkit Nightlies & Chrome . Firefox already uses optimizeLegibility by default for text sizes above 20px. Caveats Paul Irish was so kind as to pass on a few bugs that have surfaced. In recent versions of Chromium, mixing optimizeLegibility and font-variant: small-caps will cause the small-caps to not render .
Cross-browser kerning-pairs & ligatures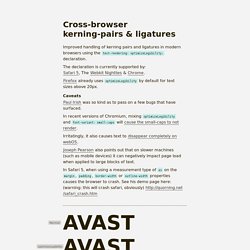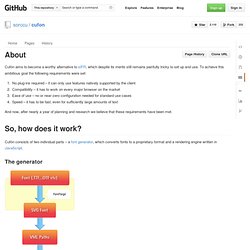 GitHub
Cufón aims to become a worthy alternative to sIFR , which despite its merits still remains painfully tricky to set up and use. To achieve this ambitious goal the following requirements were set:
Inspiration Bit