Typography
lithoshop: Madeleine Keesing's color trial proof…lino cut, 22" x 22".04/05/14 Jon Gourley, Untitled, screenprint 24.5" x 30", 2013.04/04/14 Great post by Sharon Butler about the insurgent print creeping into the painting world. (via http://www.twocoatsofpaint.com/2014/04/printmaking-sylvan-lionni-at-kansas.html)04/04/14 No, it's not print-related but too incredible, on so many levels, not to share.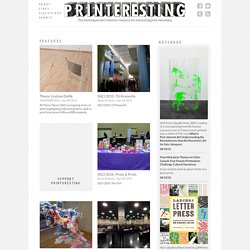 Almost a year ago, Ty Gossman over at Stylegala asked me to write an article about elastic layouts. The best I could do was a quick email between work. I always meant to come good on that.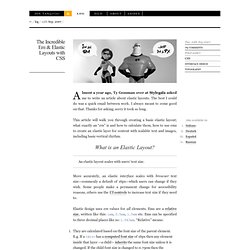 Choices, Choices, Choices [ So You Want to Create a Font — Part 1 ] T he sheer number of fonts out there ( MyFonts.com sells over fifty-five thousand) is a testament to the fact that there are nearly an infinitude of creative choices that can be made when designing a font.
So you want to create a font. Part 2
Making Geometric Type Work | Typography Commentary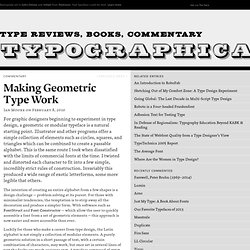 For graphic designers beginning to experiment in type design, a geometric or modular typeface is a natural starting point. Illustrator and other programs offer a simple collection of elements such as circles, squares, and triangles which can be combined to create a passable alphabet. This is the same route I took when dissatisfied with the limits of commercial fonts at the time. I twisted and distorted each character to fit into a few simple, incredibly strict rules of construction.
Improved handling of kerning pairs and ligatures in modern browsers using the text-rendering: optimizeLegibility; declaration. The declaration is currently supported by: Safari 5, The Webkit Nightlies & Chrome. Firefox already uses optimizeLegibility by default for text sizes above 20px. Caveats Paul Irish was so kind as to pass on a few bugs that have surfaced. In recent versions of Chromium, mixing optimizeLegibility and font-variant: small-caps will cause the small-caps to not render.
Cross-browser kerning-pairs & ligatures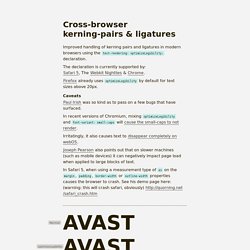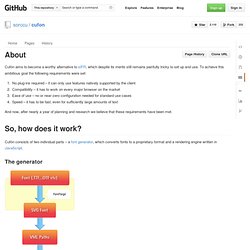 GitHub
Cufón aims to become a worthy alternative to sIFR, which despite its merits still remains painfully tricky to set up and use. To achieve this ambitious goal the following requirements were set: No plug-ins required – it can only use features natively supported by the client Compatibility – it has to work on every major browser on the market Ease of use – no or near-zero configuration needed for standard use cases Speed – it has to be fast, even for sufficiently large amounts of text And now, after nearly a year of planning and research we believe that these requirements have been met. So, how does it work? Cufón consists of two individual parts – a font generator, which converts fonts to a proprietary format and a rendering engine written in JavaScript.
Browsers supported* JavaScript In order to use the application, please turn JavaScript on. Cookies If you'd like to see settings from your last visit next time you come around, just enable cookies. Firefox extensions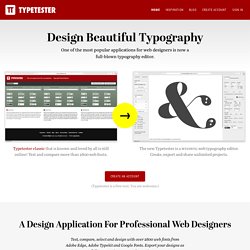 What is an EM? Wikipedia puts it well: "An em is a unit of measurement in the field of typography, equal to the size of the current font." If your font-size is at 16 pixels, then 1em = 16px What is the text sizing difference between PX, EM, %, PT?
font-family: Helvetica, Arial, sans-serif; font-size: 44px; font-style: normal; font-weight: bold; text-transform: normal; letter-spacing: -2px; line-height: 1.2em; Close font-family: Cambria, serif; font-size: 16px; font-style: italic; font-weight: normal; text-transform: normal; letter-spacing: normal; line-height: 1.5em;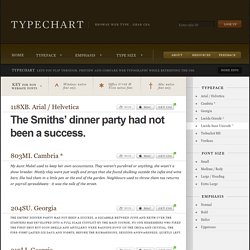 Inspiration Bit
This Week in Fonts A monumental family from Hoefler & Co, a casual sans by Type Supply, a seaworthy display from Kyle Wayne Benson, a ferry inspired face by Letters from Sweden, an extensive script family from Martina Flor, a strong grotesk by The Northern Block, a functional slab from ReType, and a bright iconset by Symbolset. Continue reading this article The Sign Painter A short film on sign painter, Mike Langley: Continue reading this article